Thinking of volunteering to vaccinate?
Posted on: Friday 22 January 2021
Author: FPM
Original post (6 January 2021)
Several FPM members have contacted us asking for guidance on how to support the national COVID-19 vaccination programme.
For more information and to register please follow this link, which is likely to be the most appropriate route for most UK-based FPM members https://www.england.nhs.uk/coronavirus/returning-clinicians/ This page also has details on how to return to work for the NHS at this challenging time.
The following article gives some more information and context https://www.bmj.com/content/372/bmj.n13.short
Additionally, NHS England and NHS Improvement have issued operational guidance on the requirement to vaccinate frontline health and social care workers. Read the guidance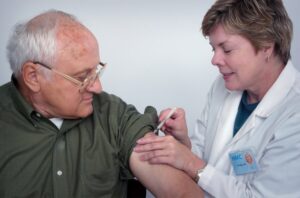 Update (12 January 2021)
A member has informed us that the following links are useful in completing the e-learning required for being approved to administer COVID vaccines.
Update 22 January 2021
Making direct contact with your local PCN
As per a recent letter from the NHS to an FPM member:
If you would like your contact details to be shared with your local Primary Care Networks (PCNs) then please email england.primarycareworkforce@nhs.net including your postcode, CCG and PCN name if known, so that your details can be directed appropriately. Depending on the number of people interested, it may take three or more days to connect doctors directly with their local PCNs.
Read our COVID-19 blog articles