Can't attend the Annual Symposium in-person? Join us ONLINE instead
Posted on: Wednesday 5 October 2022
Author: FPM
Do you want to attend our headline annual event but don't think that you can make it to London? Don't worry…FPM Annual Symposium is going hybrid!
No flights or trains, no transport delays, no geographical restrictions. Just switch your device on and join us on Thursday 3 November at 08.45 UK time.
Worried about the time difference or mid-day work or childcare commitments? We have thought about this too as you'll be able to catch up On Demand on any missed sessions.
We want you to have an equivalent experience to the in-person attendees, so you'll be able to meet your FPM friends and colleagues in a networking room, join one of our breakout sessions, ask questions, and of course receive CPD points. Sorry you'll have to provide your own tea, coffee and lunch, the technology is not quite there yet! Everything else you name it, and we will deliver.
We look forward to seeing you virtually on Thursday 3 November!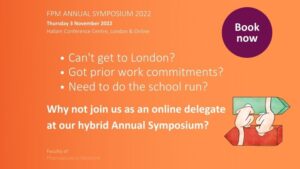 FPM Annual Symposium 2022