Clinical Research and Development in PHEs – (I): Therapeutics
Wednesday 17 June 2020
16:00 - 17:00
Recording
Watch the webinar in full
Introduction
This webinar examined the way clinical research and development has addressed the need for therapeutics, in response to the COVID-19 pandemic. It addressed the following questions:
How has clinical research and pharmaceutical medicine addressed the need for repurposing therapeutics in response to COVID-19? Have we been successful? Are new approaches needed for repurposing pharmaceuticals in the future?
How has clinical research and pharmaceutical medicine approached the development of new therapeutics in response to COVID-19? Have we been successful? Are new approaches needed for repurposing pharmaceuticals in the future? Amid a PHE, are we able to respond effectively to the needs of patients? The patients affected by the disease of the pandemic (i.e., COVID-19)? The patients affected by other diseases?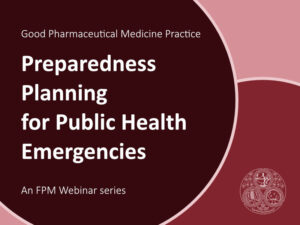 This webinar is part of our series on Preparedness Planning for Public Health Emergencies.
To find out about sponsorship opportunities for this series please email Will Strange at w.strange@fpm.org.uk 
Meet the speakers
Moderator:
Dr Penny Ward, Chair of the Education and Standards Committee, FPM; United Kingdom
Panellists:
Dr Susan Tansey, Boyds Consultants & Member of the Nuffield Council; United Kingdom
Mr Wilfred Gurupira, Research Pharmacist and HPTN International Scholar, UZ College of Health Sciences Clinical Trials Research Centre UZ CHS-CTRC; Research Head, COVID-19 Research and Advocacy Project, African Alliance; Zimbabwe
Dr Karol Szczukiewicz, Member of the Board, Association of Good Clinical Practice in Poland (GCPpl); Global Trial Manager, The Janssens Pharmaceutical Companies of Johnson & Johnson; Poland
Dr Jina Swartz, Executive Medical Director, MSD European Innovation Hub, United Kingdom
Meeting report
Dr Penny Ward set the scene for what proved to be an extremely informative session. She described how, in responding to the COVID-19 pandemic, researchers from Academia and the Pharmaceutical Industry have started exploring the possibility of repurposing existing therapeutics that may have therapeutic potential as COVID-19 treatment. She went on to pose a series of questions to the panel starting with whether we have we been successful in our response? Are new approaches needed for repurposing existing pharmaceuticals in the future? 
Dr. Jina Swartz described the MSD approach, which is standard across industry. and comprises three stages: learning, evaluating and executing. Central to this approach has been extensive internal and external strategies and collaborations. More than 1000 different compounds were screened in both pre-clinical models and the clinical environment, learning and evaluating at each stage. Dr Swartz emphasised the importance of looking to the future and having these systems and strategies already in place so that we are ready for a more rapid response to any future Public Health Emergency  
Dr Susan Tansey reminded us that although it will be quicker to get a repurposed molecule into clinic there will be a need to to adapt to factors such as potential differences in the dose and mechanism of action.' 
Dr. Swartz: described 'the  "dualistic approach"  of looking at agents that act on viral replication as well as the underlying disease processes, such as the inflammatory response and went on to point out thatthere are compounds already in clinics and in use that may impact enzymatic function for viral protein assembly, inhibit, block or modify inflammatory responses that causes significant mortality.'
 
Has the potential repurposing of medicines used for other, rare, or equally life–threatening diseases (e.g. HIV) resulted in issues for the continuation of treatment for patients suffering for the conditions the drugs are usually used to treat? 
Dr. Wilfred Gurupira warned of the risks that people's perceptions, with regards to the process of selecting medicines for further development, can lead to misunderstanding. If a candidate is chosen for further investigation, the community can get ahead of the science and, based on the knowledge that it has been identified as a potential candidate, assume that on some level it must work. People will go ahead and use these treatments if there are no other alternatives. With weak supply chains that are already disrupted as a result of the pandemic, there is an increase in demand for these candidate drugs that leaves another problem for those who really need their regular medications. HIV patients have been unable to access their regular drugs in certain regions. Therefore, there are unintended consequences of investigating repurposed drugs during a public health crisis.'
 
Does the risk-benefit balance of these agents change if used for COVID-19 rather than e.g. HIV/ hepatitis? 
Dr. Tansey described the difference in approaching risk-benefit assessments when a drug is used for a new indication, likely off label. A lot would depend on what level of risk one is willing to accept. Acceptable risks for treatment for Covid-19 could be different when looking at the serious immediate risk to life and the likely shorter period of treatment. 
Dr.  Swartz considered that despite the high risk of death with Covid-19 and the unprecedented situation, we cannot allow ourselves to be side-tracked and lower the risk-benefit level. We still need to rigorously assess risk and ensure a drug to be administered is not going to cause more harm than the disease. We need to prioritise regulatory processes; however, this must be done with scientific robustness and rigour.' 
Dr.  Gurupira added that the reality is that when patients are dying every day the pressure on physician to "do something" is immense. There is need to find a balance between adhering as far as possible to high standards without paralysing our ability to act in a timely fashion  
Dr.Swartz: acknowledged that is sometimes difficult to get balance right; however, fortunately we are not paralysed and there are many activities on-going. Still there is a need to protect people and to not do more harm. This is a very challenging area and there are no clear easy solutions.
 
Has there been equitable investigation of these medicines in resource–poor settings? What more might be done to facilitate global access to clinical trials? 
Dr. Gurupira: pointed out that there have been efforts to include resource poor setting in some of the studies. However, there is a public perception  that scientists can work out answers quickly which is not the case in reality. As researchers and scientists, we need to make sure no regions/areas are left behind.' 
Dr. Karol Szczukiewicz: described how companies and regulators began to learn quickly and adapted to the current situation. Many local health authorities have set up fast track processes for Covid-19 related investigation. 
Dr Tansey emphasised the importance of maintaining the same high ethical standards in our approach to the pandemic. There are some particular situations where the ethical aspects require particular consideration, such as when using medicines off-label versus putting patients in a clinical trial. Learnings are needed on how best to manage these situations when considering repurposing HIV drugs, and anti-malarials. It is even more important during these times to maintain high ethical standards.
 
What are the key elements of drug discovery/pre-clinical investigation that hinder/help rapid development of novel medications for this condition? 
Dr. Swartz answered that our main approach is to look at platforms that are already available. For vaccines, multiple approaches have been looked at that have worked in the past, such as work done previously on Ebola vaccine. An alternative is to look at different approaches and agents taking into account possible issues with cold chain supply.  By using established strategies and with significant collaborations we can try to make a difference. We could have been better prepared and hopefully moving forwards we will be.' 
Dr. Gurupira added that the possibility of another pandemic is very real. We have previously learned from SARS, Ebola and now Covid-19 and there here should now not be any excuse for us to be unprepared in the future. We need to be able to scale up very quickly'.  
Dr. Swartz: expanded on this point by agreeing that as global community we had let our guard down as we believed it would not happen to us. Strategies in Africa and Asia where they are used to such infections were actually much better handled, for instance with the use of early track and trace processes, compared with some other EU or US regions. 
Dr Tansey agreed that there have been some learnings from early collaborations as we have seen in examples such as the UK Recovery trial, where the protocol was ready to go at the start of pandemic.  
Looking forward, how can the world be better prepared to address new epidemics caused by different viruses? Can an investment model be designed to facilitate research and development of novel medicines such as broad-spectrum antivirals? 
Dr. Gurupira: spoke of the need to continually engage the community in dialogue to improve our common understanding of what is happening and to create a sense of ownership'. 
Dr. Swartz: expanded on this by referring to the MSD approach of 'no patient left behind'  to ensure patients that are already in clinical trials, are able to continue. This could mean moving to assessments within the home, where experiences so far have been positive. It has been a monumental effort but now many patients are beginning to understand the process. However,  Dr. Swartz agreed that patients and communities needed to be educated, so that they would feel more involved and that they had a voice.' 
With regard to the route of administration- are there cultural differences? How do we cope with phase 1 studies in this type of situation? Do we need different approaches to speed things up? 
Dr. Gurupira suggested that the route of admin iwas not important. What iwas key is that the drug works, is safe, and the trial is conducted ethically.  At a later stage we can focus on changing the of route of administration if this should be necessary. 
Dr.  Swartz followed by reminding us that this is not an easy area. There are some viruses that we can treat and can have a vaccine for, however there are some where we cannot. As with all clinical research proof lies in the data. One can have the best phases 1 and 2 trials, however when we get into the real world, only then will we see the real value of the work that has been done in the earlier stages.' 
Dr. Gurupira added that we need to ensure that there are no other confounders affecting the efficacy of the product, and that it was important to focus on patients' needs as well as the science' 
Dr Ward then opened up the discussion to put questions from the audience to the panel 
William Payne:  Is risk–benefit always clear cut?  
Dr. Swartz: replied by stating that safety issues can occur at any time. Sometimes in early trials but may not show up until later stage when larger numbers have been treated 
Q- A strategy of allowing for the development of herd immunity had been proposed by the UK government at the beginning, was this a good idea? 
Dr. Swartz answered that it was not a plausible strategy, as it would require a large % of the population to be affected. Perhaps 60%. Exposure has to be significant and as the fatality rate was significantTthis was not a risk to be taken up front.'  
Dr. Gurupira added that the issue of herd immunity is an important example of the importance of clear communication. The issue needs to be put to the public. As scientists, we need to be able to say and communicate properly that something was chosen because of the following reasons. 
Dr.Ward agreed stating that we would need public consent. If this had been influenza it would have been a good idea; however, in the context of a disease with a 20% hospitalisation rate and 50% in hospital mortality rate, this is not acceptable. 
Prof Higenbottam:  What place does our understanding of pathological changes in the disease play in determining therapeutic targets? 
Dr. Swartz explained that this had a very central place and went on to describe how we are not just treating the virus, but also treating the host response. Which is responsible for some of the severe complications of the infection. 
What is status of remdesivir in this situation? 
Dr.  Ward: explained that the evidence from the Gilead trial is that it reduces the time to recovery. The MHRA have awarded remdesivir Early Access status so that can be prescribed. Clinical trials are allowing it as part of standard of care. Gilead are currently struggling with scaling-up manufacturing to meet the demand. As it is administered intravenously, it can only be given in the hospital setting. Developing a system for providing home IV administration might need to be consider in future' 
Summary
The discussions suggest that, although there have been impressive efforts by academia and the pharmaceutical industry to move quickly, perhaps we have not fully learned the lessons from previous Public Health Emergencies in terms of the wider societal and population impacts of a pandemic. The increased global demand for medicines to treat COVID-19 is having additional unintended impact on the lives of the patients who rely on these drugs for their usual routine care (e.g. in HIV management). Some patient population could thus be left more vulnerable due to lack of access to routine medicines and healthcare. Some of these special population groups such as Cancer patients, patients living with rare diseases and the paediatric population will be discussed in the forthcoming webinars as part of the series as we consider how we can best prepare for any future Public Health Emergencies. 
Further reading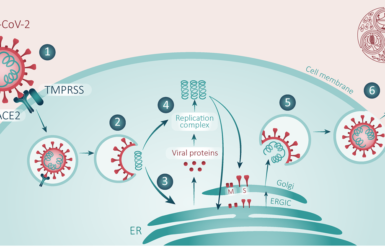 COVID-19/SARS-CoV-2 Pandemic
A landmark review by Dr Penny Ward et al addressing current knowledge concerning SARS-CoV-2 and COVID-19 disease.