Nominations open for honorary awards
Posted on: Friday 28 January 2022
Author: FPM
We are pleased to announce that nominations are now open for:
Honorary awards recognise those who have made significant contributions in the fields of research, teaching, medicine, science or society. Honorary Fellows and Members need not be medically qualified, and these awards are our opportunity to recognise those who have contributed to improving the health of the public through their work and achievements.
Membership by Distinction is an exceptional route to Membership for medically qualified individuals who have made a significant contribution beyond the normal day-to-day practice of pharmaceutical medicine. Members by Distinction have the same rights, privileges and obligations as Members and will be able to apply for Ordinary Fellowship (FFPM) after being a member for eight years.
FPM Fellows (FFPM) can nominate individuals for Honorary Fellowship, Honorary Membership or Membership by Distinction.
Ordinary Fellowship applications
We are also accepting applications for Ordinary Fellowship, so please encourage colleagues to apply. Members (MFPM) are eligible to apply to become a Fellow (FFPM) if they have either been a Member for eight or more years, or have been on the GMC Specialist Register for Pharmaceutical Medicine for two or more years. Eligible Members will be contacted by email.
Nominations for Honorary Fellowship, Honorary Membership, Membership by Distinction and applications for Ordinary Fellowship close on 4 April 2022 12:00.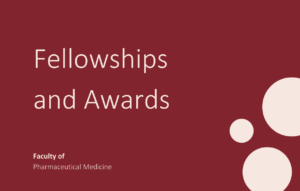 Thinking of nominating?
Find out more about eligibility criteria and the nomination process