FPM Awards 2021: congratulations to our new Honorary Members and Fellows
Posted on: Wednesday 29 September 2021
Author: FPM
Each year, FPM Fellows are invited to nominate exceptional individuals for honorary awards.
Honorary Fellowship is the highest honour FPM can bestow, it recognises the recipient's eminence within their own field and their outstanding contribution to pharmaceutical medicine.
Honorary Membership is bestowed to persons who have made significant contributions in the fields of research, teaching or the practice of pharmaceutical medicine, or medical or general science, or society.
We are very pleased to have approved three Honorary Members and two Honorary Fellows this year, including: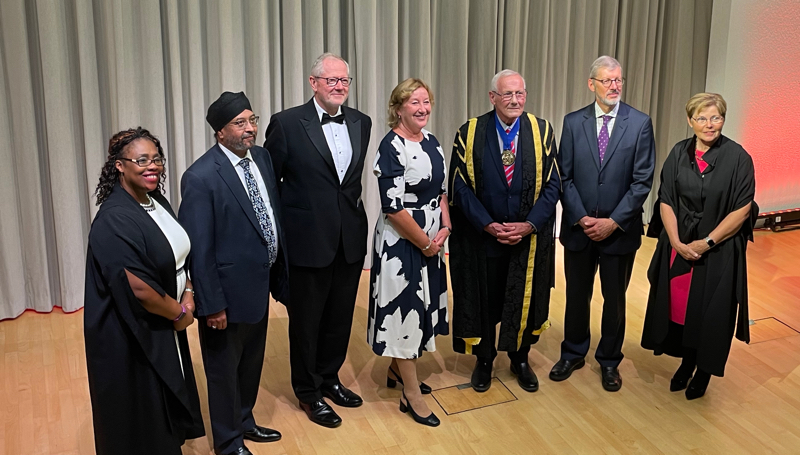 Left to right: Dr Marcia Philbin (CE of FPM), Dr Gurdyal Kalsi MFPM(Hon) (2020 awardee), Prof Richard Barker FFPM(Hon), Dr Renata Crome MFPM(Hon), Prof Tim Higenbottam (President of FPM), Dr William van't Hoff FFPM(Hon), Dr Flic Gabbay (Vice-President of FPM)
Honorary Members 2021
Dr Renata Crome
Renata is a Pharmaceutical Development Specialist with 30 years' experience in scientific development, regulatory approval and commercialisation of new medicines. She started her career in academic cardiovascular research at St Thomas's Hospital, London, then joined Roche where she led teams developing key projects including Tamiflu for influenza, and Avastin for cancer. In 2015 Renata joined Cancer Research UK heading up Project and Portfolio management. At the height of the first wave of COVID-19, 2020 (Mar-Sept), Renata was appointed Programme Director for the UKRI Government sponsored programme of Phase 2 treatments for Covid-19.
Renata is a trustee of PTEN Research Foundation, holds a number of Non-Executive Directorships and Scientific advisor roles. She is a lay member of the Policy and Communication Committee and a member of the Policy and Government expert committee. She has brought experience to FPM from a distinguished career in Pharmaceutical Medicines Development focused on early medicine development.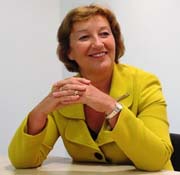 Ms Trishna Bharadia
Trishna Bharadia is one of the most active patient advocates in the UK and internationally. She
describes herself as 'bringing the patient voice into the healthcare journey', working with multiple stakeholders including patient associations & charities, clinicians, research, academic and Industry bodies.
Trishna has a number of charitable appointments including Patron of ParaDance UK; Ambassador for the MS Society UK, Patron of the Chilterns MS Centre and Cambridge MS Therapy Centre and a former ambassador for Sue Ryder.
She has been collaborating with pharma for over a decade, advising on specific projects and a wide variety of collaborative programmes across the whole spectrum of medicines development and commercialisation. She also mentors patients wishing to develop their own advocacy skills, and has advised a number of UK healthcare charities on engagement with Asian communities.
An accomplished speaker, Trishna has spoken at many conferences on a variety of topics, ranging from technical aspects of writing for patients in plain English; shared decision making; patient collaboration in the digital age; cultural sensitivities and engaging with BAME patients in healthcare and her own journey as an inspirational leader in the world of patient advocacy.
Trishna's list of awards and achievements far exceed the scope of a single sheet of paper, and include:
– UK Prime Minister's Office Points of Light Award for services to people with MS and chronic illness, 2018
– Woman of the Year, 18th Asian Achievers Award, 2018
– EyeforPharma European Patient Advocate Award, 2018
– Woman of the Year Foundation, Woman of Achievement, 2015
– Sue Ryder, Southerm Woman of Achievement, 2015
– MS Society UK, Volunteer of the Year, 2013
– Excellence in Diversity Awards, Finalist, 2017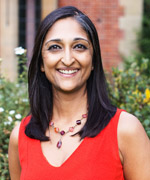 Honorary Fellows 2021
Dr William van't Hoff
William van't Hoff trained as a paediatrician in the NHS becoming a consultant nephrologist at Great Ormond Street Hospital in 1996 and became Director of the NIHR Clinical Research Facility at Great Ormond Street Hospital from 2006 to 2020.
William has held a number of leadership roles in the NIHR and the Medicines For Children Research Network (MCRN) since 2006. He has been instrumental in the work of the MCRN and NIHR-CRN and took up the role of Chief Executive Officer at the NIHR Clinical Research Network (CRN) Coordinating Centre in March 2020, providing leadership to the Clinical Research Network across England. The NIHR-CRN delivers thousands of research studies with approximately 1 million participants each year, in the NHS as well as in social care settings throughout the country. William has also held advisory roles with NICE and the British National Formulary and served as Chair of the Royal College of Paediatrics and Child Health Medicines Committee.
In his work at Great Ormond Street CRF, in the NIHR-CRN (and formerly the MCRN) William has been a
key player in increasing both the volume and quality of children's clinical research in the UK – both academic and industry studies. He now heads up the NIHR-CRN and is translating his expertise and enthusiasm in paediatric clinical research to further improve the UK's standing in clinical research across all age groups and therapeutic areas.
William is committed to patient involvement, inclusion and delivering the best research to maximise
patient benefit. As NIHR CRN Clinical Director for NHS Engagement, he led an innovative partnership, including the R&D community and patients, to integrate clinical research into the CQC's assessments of hospitals. In 2015, he received a NIHR CRN award for his work with the life sciences industry to improve opportunities for children to benefit from clinical trials of new medicines.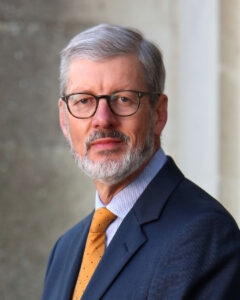 Ms Kate Bingham
Through her 30 year career in life sciences investing Kate has made an outstanding contribution to the health and vitality of biotechnology and life sciences in the UK.
In 2020 she made an outstanding contribution to the health and wellbeing of millions of individuals worldwide via her chairmanship of the UK Vaccines Taskforce, assisting with selection of a number of early stage vaccine technologies and pre-ordering of doses with a view to early introduction of a widescale vaccination program. The success of the task force was informed by her prior experience in life sciences investing.
Kate has been a venture partner and now managing partner of SV Health Managers (formerly SV Life Sciences) for the past 30 years. During this time their focus on company creation has enabled the development of multiple products for the treatment of cancer, inflammatory diseases, infections, respiratory and neurological diseases ( dementia, neuropathic pain, schizophrenia). Products which represented step changes in efficacy and which were first in class medicines initially funded by SV include pegaptinib (the first intravitreal VEGF inhibitor for the treatment of macular degeneration), vedolizumab (the first α4β7 integrin inhibitor to be used for the treatment of inflammatory bowel diseases), blinatumomab (the first bispecific T cell engager antibody (BiTE) indicated for the treatment of B-cell acute lymphocytic leukaemia) and olaparib (the first PARP inhibitor approved for the treatment of metastatic cancer).
Prof Richard Barker
Richard Barker is a senior leader in the global life sciences sector noted for his contributions to
advancing the interests of the biopharmaceutical industry, for creating innovative approaches to
developing novel pharmacotherapeutics, regenerative medicine, and for promoting precision medicine
and the uptake of innovation in the NHS. Richard was awarded an OBE was for services to the pharmaceutical industry in 2012.
Richard is Founder & CEO of New Medicine Partners; Founder and Chairman of Metadvice; Chair, Health Innovation Network, London; and Visiting Professor, Kings College London.
As Director General of the Association of the British Pharmaceutical Industry (ABPI) he was the principal liaison point between the Government (successive Secretaries of State for Health and Number 10) and the UK pharmaceutical industry. He developed greater partnership with the public sector research community, as well as joint work on medicines pricing via two successive Pharmaceutical Price Regulation Schemes (PPRS). He created the concept of adaptive development via the cross-sector Athenaeum Group and advocated this via his subsequent work with the European Innovative Medicine Initiative. At the ABPI he also wrote an influential Oxford University Press book on the future of healthcare ('2030-The Future of Medicine').
His interest in precision medicine derives not only from his work at the ABPI and CASMI but also from his pre-ABPI roles heading IBM's global healthcare business and Chiron diagnostics, the international diagnostics company (now part of Siemens). He therefore rather uniquely combines senior backgrounds in therapeutics, diagnostics and medical informatics.
Latterly, he has also combined his precision medicine expertise with the growing interest in applying these insights to population health, to create the concept of 'precision population health', which he is pursuing as Visiting Professor in the Institute for Population Health at King's College London. He also recently chaired the Population Health section of the recent UK All-Party Parliamentary Group on Healthy Longevity, and co-authored part of its report 'The Health of the Nation'.