AGM 2022
Friday 4 November 2022
11:00-13:00
Our Annual General Meeting will take place online via Zoom on the 4 November 11:00-13:00.
All members of FPM are invited to attend.
Please note: only Members (MFPM) and Fellows (FFPM) are eligible to participate in any votes. If you are a non-voting member we still want to hear from you, so please register to attend below.
Online bookings are closed, email fpm@fpm.org.uk no later than 10am on Friday 4 Novermber if you want to attend.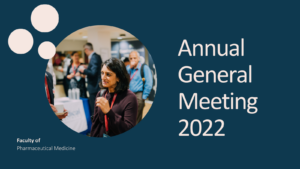 Annual Genearl Meeting CLOSED FOR ONLINE BOOKINGS
4 November 2022
Documents for the AGM 2022
Download the agenda and report for this year's AGM
Download the minutes from 2021's AGM
Joining Instructions and Bookings
Joining instructions will be sent to attendees a week before the AGM, and a reminder will be sent at 16:30 on the 2nd November and again at 10:00 on the day of the AGM.
Booking will close at 14:00 on the 2nd November.
Please see our privacy notice for details about how we use your personal data to facilitate these events.
Problems or queries
If you have any problems or queries, please email fpm@fpm.org.uk 
The views, information, or opinions expressed during FPM events and training are those of the individuals involved and do not necessarily represent those of the Faculty of Pharmaceutical Medicine. We value inclusivity, equality and diversity, and work hard to promote these whenever possible in all of our activities.