Webinar with Yale School of Public Health on leading the way in Diversity, Equity, Inclusion and Belonging
Posted on: Friday 15 April 2022
We are delighted to welcome Mayur M Desai (PhD, MPH) and Sten H Vermund (MD, PhD) from the Yale School of Public Health to our upcoming one hour webinar at 18:00-19:00 (UK time), Wednesday 25 May 2022 .
A global heavy hitter, Yale School of Public Health has the opportunity to influence public health policy, research and impact in communities at a local, national and global level. Professors Desai and Vermund have been instrumental in tacking issues related to health inequality and creating a learning and working environment that promotes belonging, inclusion, social justice and health equity.
We will be asking them to talk about their experience in setting up and establishing EDI initiatives within their school, how these initiatives will help them to meet their ultimate goals (equity in health and education) and to give us some of their key insights and learnings from this journey.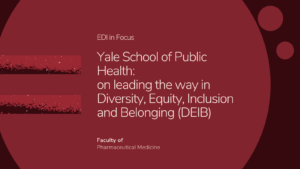 Free to attend
Find out more and book online