FPM Event: Advancing the Frontiers of Gene Therapy in Rare Diseases
Posted on: Saturday 26 March 2022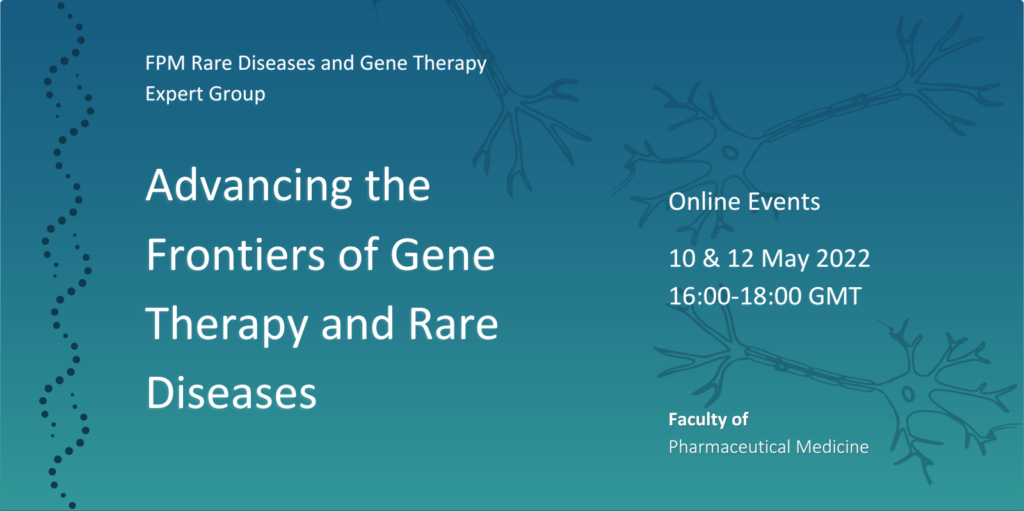 Join us in May for two online educational events on advancing technologies and practise in gene therapy in rare diseases.
We have an excellent line up of expert speakers, who will deliver their key learnings in this field during the two sessions.
Each session is available to purchase individually, or you can buy both for a discounted overall rate.
These CPD approved events are for professionals working across the science and practice in rare diseases and gene therapies and have been organised by the FPM Rare Disease and Gene Therapy Expert group.
Day 1
Lessons learnt in Gene Therapy & Rare Disease Development 
10 May 16:00-18:00
This practical and educational session will deliver an introduction and overview on the use of evolving gene therapies in the rare disease space and the challenges faced in clinical development, including discussion on use of biomarkers, novel complex endpoints and innovative trial designs.  Insights will be provided into 'lessons learnt' from the perspectives of four highly experienced experts in the field.
---
Day 2
Lessons learnt in Gene Therapy & Rare Disease Patient Engagement and Access
12 May 16:30-18:00
This panel discussion will provide insights on the specific challenges with patient engagement in gene therapy and rare diseases. Our panel of expert speakers include leading patient advocates, leaders in rare disease gene therapy and drug development, and experts in market access for patients with rare diseases.