FPM Education Day On Demand
Posted on: Tuesday 8 August 2023
Didn't make it to FPM Education Day 2023? or maybe you want to relive the FPM Education Day event? You can now access all the valuable insights and knowledge from this exceptional event online! 
Pharmaceutical Medicine: Brave New Worlds
Pharmaceutical medicine is constantly evolving in the face of new challenges. The 2023 FPM Education Day focused around two main themes – harnessing innovation, and harnessing genomics.
Now available as an On Demand package, you can watch videos of all plenaries and two breakout sessions that explore a host of innovations in regulatory access, clinical trials and gene therapies, among others.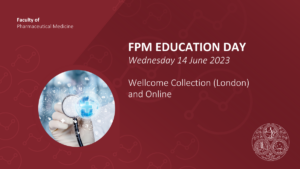 Here's what you can expect:
Regulatory Access Programs: Dr Kirsty Wydenbach's high-level overview of regulatory access programs, including fast track options and the Innovative Licensing and Access Pathway
Rare Disease Insights: Dr Tiago Nunes explored the specific considerations in clinical development for rare diseases
Adaptive Trials: Dr Michael Krams delved into the world of adaptive trials, a critical aspect of modern pharmaceutical research
Pharmacogenetics: Dr Richard M Turner discussed the value of implementing genetic testing to optimise drug responses
Gene Therapy Revolution: Dr Laura Campbell: exploration of the gene therapy revolution from concept to real-world application
"A really informative and interesting day"
"High quality event"
"Really interesting, relevant and engaging day"
Secure your copy
Don't miss the opportunity to access this wealth of knowledge. Purchase your On Demand access to FPM Education Day 2023 now and experience the future of pharmaceutical medicine form the comfort of your own space.