Fellowship (FFPM) applications 2022 are open
Posted on: Tuesday 1 March 2022
Author: FPM
We are pleased to announce that applications are now open for Ordinary Fellowship (FFPM).
Members (MFPM) are eligible to apply to become a Fellow (FFPM) if they have:
been a Member for eight or more years,
or have been on the GMC Specialist Register for Pharmaceutical Medicine for two or more years.
Applications need the support on an existing FPM Fellow. Eligible Members have been contacted by email, but please offer support/encourage eligible colleagues to apply.
Application close on 4 April 2022 12:00 (GMT), and you can find the application from below.
All new Fellows will be invited to attend our Annual Awards Ceremony on 6 July 2022.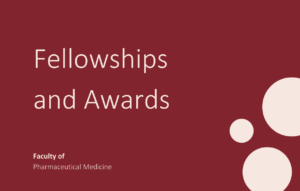 What does Fellowship of FPM mean?
"It's an act of support for the specialty as well as a demonstration of one's professional standing."
"[Fellowship] sets a benchmark for yourself among your peers and builds a network of professionals with whom you have a connection."
"It's a marker of professional excellence/ experience."
"Pharmaceutical Medicine is a recognised medical specialty and by becoming a Fellow you are demonstrating that you have achieved success and significant experience in this field, similar to being a Fellow of other Royal Colleges."
"[Fellowship] provides the ultimate recognition of a pharmaceutical physician's commitment to the specialty, seniority and experience."
"It reflects your credentials as an experienced pharmaceutical physician. Obtain it and use it with pride in your professional roles. "
Anonymous quotes from FPM's 2018 Fellowship feedback survey
Thinking of applying?
Find out more about eligibility criteria and the nomination process