Special Populations in PHEs (II): Rare Diseases
29th July 2020
16:00 - 17:00
Introduction
This webinar examines the impact that COVID-19 pandemic has had on people living with rare diseases (including access to medicines and research in rare disease). It addresses the following questions:
What has been the impact on development and access to medicines for people living with rare diseases during the COVID-19 pandemic? What can be done better?

Are people living with rare diseases sufficiently considered in the responses to a Public Health Emergency? What are the unmet needs?

How can pharmaceutical medicine and the rare disease community continue to foster clinical research and innovation for people living with rare diseases during a Public Health Emergency?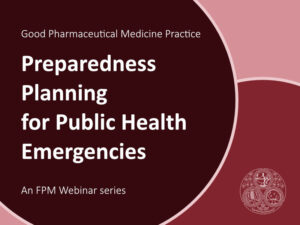 This webinar is part of our series on Preparedness Planning for Public Health Emergencies.
Meet the speakers
Moderator:
Dr Zoya Panahloo, Member of the Ethics & Practice Committee, Faculty of Pharmaceutical Medicine, United Kingdom
Panellists:
Tanya Collin-Histed, CEO, International Gaucher Alliance, United Kingdom

Professor Huma Arshad Cheema, Paediatric Gastroenterology-Hepatology & Nutrition, The Children's Hospital & Institute of Child Health, Lahore, Pakistan

Dr. Heather Lau, Neurogeneticist and Paediatric Neurologist, New York University School of Medicine, USA
Emily Crossley, Co-founder and Joint CEO Duchenne United Kingdom
This webinar is free to attend
IMPORTANT: If you are unable to complete your booking online, please email fpm@fpm.org.uk and we will book you onto the event.
This event is approved for CPD.
To find out about sponsorship opportunities for this series please email Will Strange at w.strange@fpm.org.uk