Special Populations in PHEs (I): Paediatrics
15th July 2020
16:00 - 17:00
Introduction
This webinar examines the evolving challenges to paediatrics during a PHE, specifically during this COVID-19 pandemic.
It addresses the following questions:
How do we approach paediatric clinical research and pharmaceutical medicine during a PHE? Should our approach change?
What are the real needs for children's health during a PHE and how should pharmaceutical medicine respond?
What regulatory and ethical considerations needs to be reviewed for paediatric clinical research during a PHE?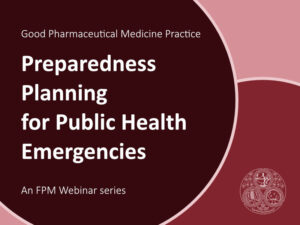 This webinar is part of our series on Preparedness Planning for Public Health Emergencies.
Meet the speakers
Moderator:
Professor Mark Turner, Neonatology and Research Delivery, University of Liverpool & Co-coordinator of the IMI2 Project, Connect 4 Children, Collaborative Network for Clinical Trials for Children (c4c), United Kingdom
Panellists:
Professor Barbara Bierer, Multi-Regional Clinical Trial Center, Brigham and Women's Hospital and Harvard University, USA

Professor Mariana Kruger, Department of Paediatrics and Child Health, Stellenbosch University, South Africa

Professor Sidnei Epelman, Director, Pediatric Oncology Department, Santa Marcelina Hospital; Founder and President, TUCCA Association for Children and Adolescents with Cancer, INCTR São Paulo, Brazil
This webinar is free to attend
IMPORTANT: If you are unable to complete your booking online, please email fpm@fpm.org.uk and we will book you onto the event.
This event is approved for CPD.
To find out about sponsorship opportunities for this series please email Will Strange at w.strange@fpm.org.uk