Ethical Issues Arising in Public Health Emergencies (PHEs)
9th September 2020
16:00 - 17:00
Introduction
This webinar examines the ethical issues that have arisen in the context of the COVID-19 pandemic. It addresses the following questions:
What are the ethical issues that have arisen during the COVID-19 pandemic? To what extent are these issues specific to patient populations and/or geographical regions? To what extent are they general?
Has pharmaceutical medicine been sufficiently cognisant of these ethical issues? And has it responded in a sufficient manner to the ethical issues?
Do we need to adjust or change our approach to ethics during a PHE?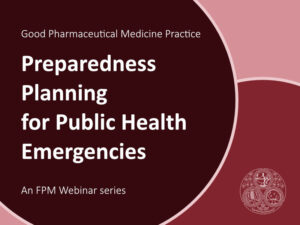 This webinar is part of our series on Preparedness Planning for Public Health Emergencies.
Meet the speakers
Moderator:
Dr. Alastair Benbow, Chairman, Ethics & Practice Committee, FPM; Chief Development and Medical Officer, Norgine, United Kingdom
Panellists:
Professor Young-Mo KOO, Associate Professor of Biomedical Ethics; University of Ulsan College of Medicine, Asian Medical Center, Seoul, South Korea
Professor Fernando Lolas Stepke, Director, Interdisciplinary Center for Studies in Bioethics in the Program of Global Bioethics at the Institution of International Studies, University of Chile
Professor Ames Dhai, Wits University, Johannesburg, South Africa & Member of the UNESCO International Bioethics Committee (IBC)
Professor Haihong Zhang, Beijing Medical University; China
Dr. Susan Tansey, Boyds Consultants & Member of the Nuffield Council on Bioethics; United Kingdom
This webinar is free to attend
IMPORTANT: If you are unable to complete your booking online, please email fpm@fpm.org.uk and we will book you onto the event.
This event is approved for CPD.
To find out about sponsorship opportunities for this series please email Will Strange at w.strange@fpm.org.uk