Data and Knowledge Sharing During PHEs
26th August 2020
16:00 - 17:00
Introduction
This webinar examines the role of data and knowledge sharing within the clinical research community during a PHE. It addresses the following questions: 
Has

 the COVID-19 pandemic affected the way the clinical research community shares data and knowledge?

 In what 

ways

 

has COVID-19 facilitated 

data and knowledge sharing? In what ways has it hinder

ed

 data and knowledge sharing

?

 

What are the hurdles to sharing data and knowledge in clinical research? The scientific/technological hurdles? The societal/investment hurdles?

 

What is needed to make data and knowledge sharing more effective and more the norm

?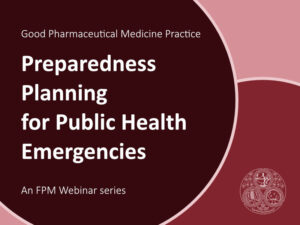 This webinar is part of our series on Preparedness Planning for Public Health Emergencies.
Meet the speakers
Moderator:
John Wise, Consultant at Pistoia Alliance & Programme Coordinator, PRISME Forum
Panellists:
Professor Barend Mons, Biosemantics, Leiden University Medical Center; Board Member, Leiden Centre of Data Science; Chair, High Level Expert Group of the European Commission on the European Open Science Cloud; Director of the International Office of GO FAIR; The Netherlands
Professor Huanming (Henry) Yang, BGI, Shenzhen, China
Professor Elizabeth (Betsy) Ogburn, Department of Biostatistics, Johns Hopkins University & COVID-19 Collaborative Platform (covidcp.org), USA
Elissa Prichep, Project Head, Precision Medicine, World Economic Forum
This webinar is free to attend
IMPORTANT: If you are unable to complete your booking online, please email fpm@fpm.org.uk and we will book you onto the event.
This event is approved for CPD.
To find out about sponsorship opportunities for this series please email Will Strange at w.strange@fpm.org.uk