Workshop 2 – The role of digital tools in changing health behaviour
Tuesday 16 June 2020
10:00 - 11:30
Summary:
This workshop will review the evidence for behavioural change programs to be included in health outcome programs alongside current patient engagement tools. Using examples of successful behavioural change programs, we will explore the role for behaviour change in physical activity, medication adherence, smoking cessation amongst others. We will explore how new digital tools are unlocking our understanding of behaviour and our ability to make change. Finally, the audience will leave with a checklist of how to initiate behavioural change in their workplace and resources that will help them get started.
Learning objectives:
The role of behavioural change programs in healthcare
How Digital tools can support behavioural change
How to start a behavioural change program
We have closed bookings. See our Terms & Conditions for booking and please note our privacy policy.
Joining instructions will be sent to attendees no earlier than Friday 12 June 2020.
If you have any queries, please email fpm@fpm.org.uk.
Meet your facilitator - Dr Mark Lightowler
Mark originally trained as a medicinal chemist in England, obtaining his PhD and post-doctoral experience at Bath University. During the last twenty years he has worked across many pharmaceutical roles from drug discovery, clinical development, sales and marketing. As global head of digital solutions for respiratory at Novartis was focused on digital healthcare innovation, where technology meets health outcomes. He was responsible for the connected inhaler platform and developing the world's first iPhone spirometer.
He is now the CEO of Phorix Limited, a UK and Swiss based behavioural change design agency. Phorix is focused on understanding the role of behaviour change in patient outcomes. This approach is applied to the design of programs and digital tools looking to improve engagement, adherence and health choices. Working with pharmaceutical companies, patient organisations and technology companies, Phorix provides a holistic view of patient experience and patient outcomes.
Separately he writes on the science and art of storytelling and how to make science and medicine memorable.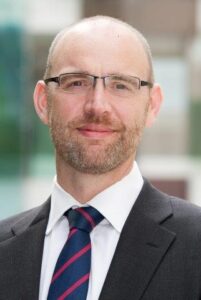 About FPM Education Week
Message from the event chair, Dr Asad Khan
More from FPM Education Week 2020