Managing Medical Emergencies in Human Pharmacology 2022
Friday 16 September 2022
9:30-16:30
A one-day online course on the management of medical emergencies in human pharmacology studies. This course is for all medical staff involved in the care of volunteers; including doctors, nurses and technicians.
Fees and Registration
FPM members: £150
Non-members: £195
DHP, CHP and DET candidates: free to attend*
*This course is a requirement for those taking the Diploma in Human Pharmacology (DHP), and is free to attend as part of the diploma. Candidates working towards the Certificate in Human Pharmacology (CHP) and Diploma in Experimental Therapeutics (DET) can also attend free of charge. To book your place, email exams@fpm.org.uk.
Booking info
Booking deadline: Bookings will close at 12:00 (GMT+1) on Wednesday 14 September 2022.
Queries: If you are unable to complete your booking online, want to book on behalf of others or you would like a refund, email exams@fpm.org.uk.
Refunds: A full refund will be given for cancellations received before the booking deadline.
Joining info
This course will be delivered via Zoom. Joining instructions will be sent out via email, no later than 15:00 (GMT+1) 14 September 2022.  If you haven't received your joining info by 15 September, email exams@fpm.org.uk.
CPD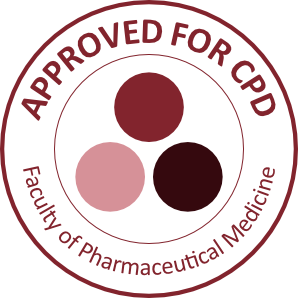 This training day is worth up to 5.5 CPD points!
If you attend this course you can use it as CPD for your appraisal. To do so you'll need to provide:
evidence (certificate of attendance), and
reflection, specifically a couple of paragraphs on what you learnt, what effect it will have on your current practice and how it relates to Good Medical Practice.
Upload these into your portfolio and self-allocate your CPD points at 0.25 credits per 15 mins.
Programme
09:30 – 09:35
Introduction – John Posner
09:35 – 10:10
SAEs in HP studies and Risk Mitigation – John Posner
10:15 – 10:45
Acute ophthalmology – Simona Esposti
10:45 – 11.00
COFFEE
11:00 – 11:40
Rapid loss of consciousness – Darren Wilbraham
11:45 – 12:30
Allergy, anaphylaxis, bronchospasm – Tim Higenbottam
12:30 – 13:30
LUNCH
13:30 – 14:45
Drug-induced cardiac arrhythmias – Steve Warrington
15:00 – 15:45
Biologics – acute AE's, cytokine release – James Galloway
15:45 – 16:00
Discussion, Q&As – All