DPM Training Programme 2022
Start date: Saturday 1 January 2022
End date: Wednesday 19 January 2022
The DPM Training Programme runs annually, with bookings open for each module from early each year.
During this training programme the syllabus of Pharmaceutical Medicine Speciality Training  is taught with a focus on the areas most relevant to the Diploma in Pharmaceutical Medicine exam.
This programme is designed for anyone who wishes to improve their knowledge in a specific area, as well as those preparing to sit the exam.
Training is delivered via Zoom, with regular screen breaks scheduled in throughout the day and a 1 hour lunch break.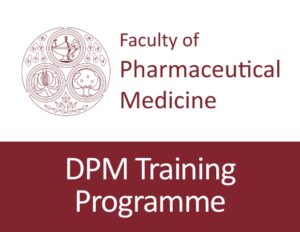 Bookings for each module will open early 2022
Price per training module:
PMST trainee - £650
FPM member - £695
Non-member - £750
Price per exam coaching module:
PMST trainee - £325
FPM member - £350
Non-member - £395

The DPM Training Programme is a well-designed and well-structured course that covers all aspects related to pharmaceutical medicine. The presenters are engaging and very knowledgeable about the topics. I would highly recommend this course.
P. Ryan, Nucleus Network (March 2021)
I thoroughly enjoyed and recommend the course. Its content targeted a wide theoretical knowledge of pharmacovigilance very pertinent to everyday activities of a safety physician.
Trainee (March 2021)
This course is as good as the reputation suggests! Really worth attending if possible. Great to have such detail covered and access to knowledgable speakers. Thank you!
Trainee (March 2021)
About the DPM Training programme
The FPM training programme for the Diploma in Pharmaceutical Medicine (DPM) exam includes 9 modules.
You can book one, several or all modules as your educational training needs dictate. Modules run annually and attendance can be spread flexibly over multiple years as required.
The final 3 modules cover exam technique and focus on the Multiple Choice Question (MCQ) paper, the Single Answer Question (SAQ) paper and the Critical Appraisal Paper (CAP) of the Diploma in Pharmaceutical Medicine exam. You can find out more about the different exams here.
Who is this course for?
Anyone who wishes to prepare for the Diploma in Pharmaceutical Medicine (DPM)
Anyone who has taken the DPM exam previously and requires refresher training
Anyone wishing to improve/update their knowledge in a specific module or modules
Anyone requiring the flexibility of a modular training programme
Anyone preferring a focussed, strategic approach to training and exam preparation
You do not need to be a Pharmaceutical Physician, have a medical degree, be enrolled in HMT/PMST or be planning to sit the Diploma in Pharmaceutical Medicine exam in order to attend
Anyone taking the Certificate in Pharmaceutical Medicine
Aims
We aim to:
Further your understanding of key aspects of pharmaceutical medicine and the industry
Provide a focussed approach to learning and exam preparation
Give you greater confidence to sit the exam
Provide you with a comprehensive range of learning materials that will aid you in your professional development
Provide you with the knowledge needed to develop and maintain competence, ethics and integrity and the highest professional standards
CPD
If you attend this course you can use it as CPD for your appraisal. To do so you'll need to provide:
evidence (certificate of attendance), and
reflection, specifically a couple of paragraphs on what you learnt, what effect it will have on your current practice and how it relates to Good Medical Practice.
Upload these into your portfolio and self-allocate your CPD points at 0.25 credits per 15 mins.
Refund policy
For cancellations up to 1 week before the start date a full refund will be given.
For cancellations between 1 week and the published closing date a 50% refund will be given. If someone else can take your place on the module, a full refund will be provided.
Refunds cannot be given after the published closing date.
In the event of cancellation by FPM a full refund will be given.
The views, information, or opinions expressed during FPM events and training are those of the individuals involved and do not necessarily represent those of the Faculty of Pharmaceutical Medicine. We value inclusivity, equality and diversity, and work hard to promote these whenever possible in all of our activities. We welcome your comments and feedback: events@fpm.org.uk