Save the date! FPM Annual Symposium – in person
Posted on: Wednesday 18 May 2022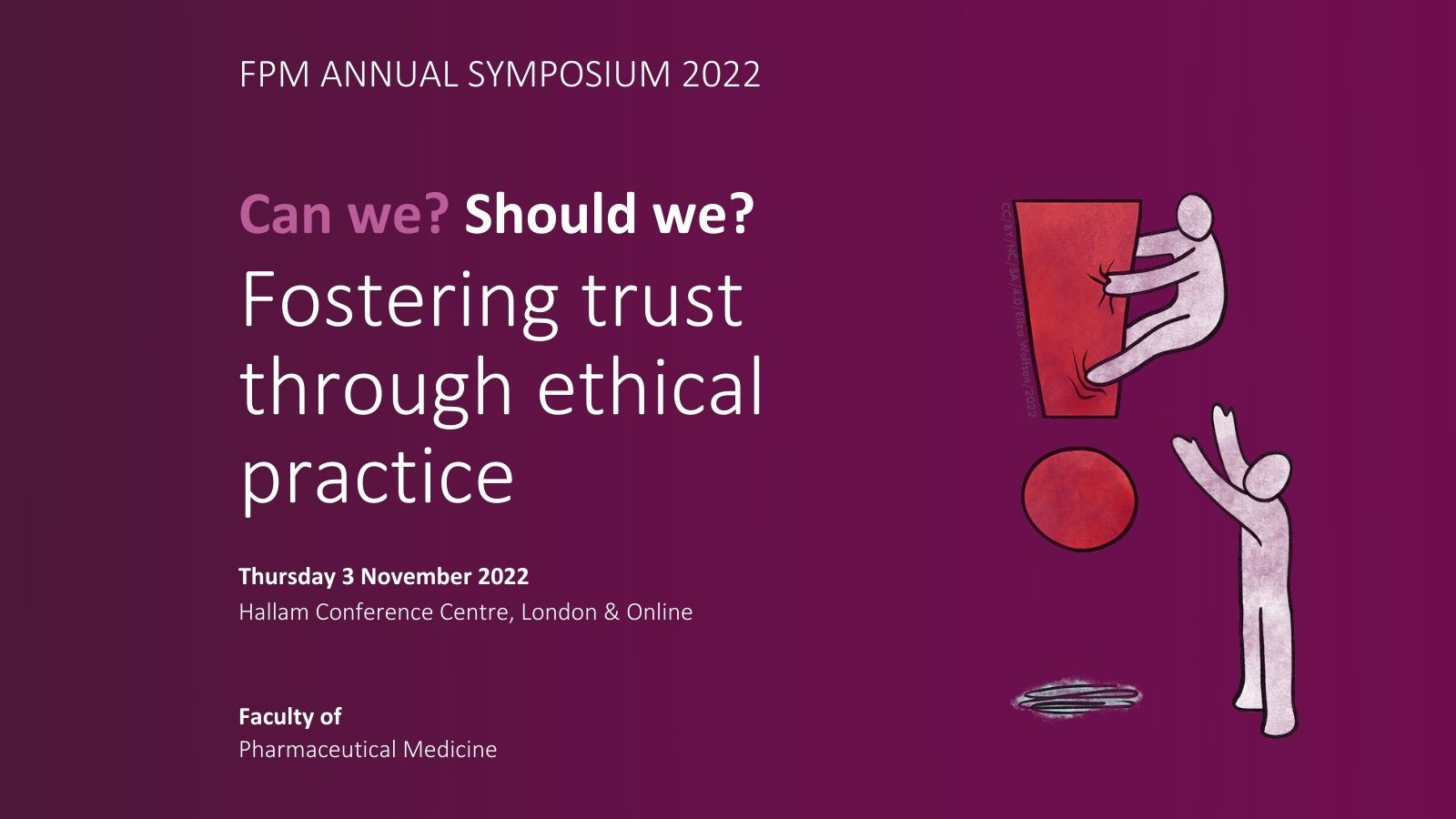 For the first time in two years our Annual Symposium will take place in-person, and we can't wait to meet face-to-face with our colleagues, members and friends again.
We will hold a symposium dinner in the evening, following the day's talks and sessions. This will be an additional fee (to cover the cost of your meal) and available to book as an optional add-on.
Our AGM will take place the next day (4 November) at the FPM offices in London and all FPM members are welcome to attend.
3 November, all day – Annual Symposium
3 November, evening – Dinner (additional fee, optional add-on available during booking)
4 November, 11:00-14:00 – AGM and lunch (members only, free to attend, optional add-on available during booking)
---
3 November 2022 | 9:00-17:00
---
In Person
Hallam Conference Centre,
Hallam St, London
and Online (Zoom Events)
Save the date! FPM Annual Symposium – in person
Themes
Ethics in pharmaceutical medicine and clinical trials
Embedding ethics in our practice allows us to meet the needs of diverse populations across the world.
How do pharmaceutical physicians embed ethical thinking into their everyday practice? How can ethics support the design and implementation of innovative, global clinical research and medical affairs activities? How can ethical thinking directly support equitable access and meet the needs of vulnerable people and underserved or marginalised communities?
Getting the comms right – Information vs Misinformation vs Over-communication
Delivering the right information, in the right way, at the right time, is vital for public health.
How do we as a community ensure that we are communicating effectively with patients and the public? Can we learn from the lessons of the COVID-19 pandemic? What are the most effective tools for communicating benefit:risk and efficacy of medicines to the public? Can bad communication or lack of information erode trust?
Trust in medicines
Pharmaceutical physicians are key in engaging across the life sciences in developing effective and safe medicines.
How can we communicate and lead work across the life sciences ecosystem to build trust in medicines in clinicians, the public and policymakers? How can we encourage an understanding and a healthy scepticism within society, so that people become better educated and more active partners in decisions about their health? How can we help to create empowered patients?