Roger "Steve" Stephens
Posted on: Monday 12 September 2022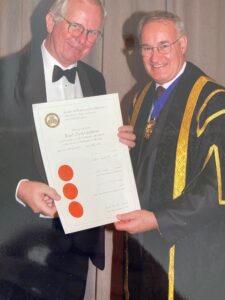 Roger "Steve" Stephens
1942 – 2022
It is with immense sadness that we announce the death of Roger "Steve" Stephens, an Honorary Member of the Faculty of Pharmaceutical Medicine since 2004 and the founder of RSA Group (then Roger Stephens & Associates). Steve's visionary mindset and drive to do things differently led him to launch Roger Stephens & Associates in 1981 and it continues to thrive to this day.
Steve was proud to have been a part of building the field of pharmaceutical medicine, working with Flic Gabbay and others on the ethical foundations of the specialty, writing the first Careers for Doctors in the Pharmaceutical Industry publications for the ABPI, and later as an active participator at BrAPP and FPM events. He was presented with his Honorary Membership in 2004 to recognise his outstanding contribution to advising professionals in pharmaceutical medicine.
Flic Gabbay, President of the Faculty of Pharmaceutical Medicine, said: "Steve's support for setting standards for pharmaceutical physicians and obtaining appropriate recognition was invaluable and especially so during the process of establishing the Faculty of Pharmaceutical Medicine of the Royal Colleges of Physicians in 1989. Above all, he has been enormously supportive to many pharmaceutical physicians round the globe and will be much missed."
He leaves behind him his loving wife of 58 years Edna, his son and current Chairman of RSA, Nick Stephens, and his memory will no doubt live on in the memories of the thousands of lives he touched.
There will be a celebration of his life in early October – please let Nick Stephens know if you would like details Nick.Stephens@theRSAGroup.com