FPM President's Medal Awardees, 2019
Posted on: Wednesday 13 November 2019
The FPM President's Medal recognises exceptional individuals who have gone above and beyond to deliver fundamental and transformational change to the field of pharmaceutical medicine. The following individuals were awarded the president's medal during the 2019 FPM Annual Dinner on Wednesday 13 November 2019.
Due to an unforeseen delay with the Royal Mint, a 'Santa's nice list' giant chocolate coin had to be a temporary stand-in! [photos: Will Strange/FPM]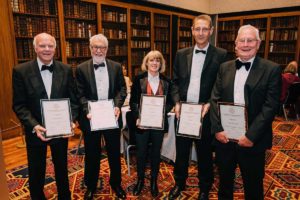 Professor Malcolm Boyce
Professor Malcolm Boyce worked as a research physician in drug development for the pharmaceutical industry for 17 years before leaving to start what later became Hammersmith Medicines Research (HMR) in one room at St Bartholomew's Hospital. He has been the Medical and Managing Director of the company for the last 26 years, during which time he has grown it into a multi-million pound enterprise that has been recognised with awards and notable achievements, including three Queen's Awards for International Trade.
Malcolm has also found time for other projects that have contributed to the development of Pharmaceutical Medicine and Clinical Pharmacology in the UK, as well as the safety of subjects participating in pharmaceutical research. He has played a full part in representing early drug development with the Association of the British Pharmaceutical Industry (ABPI), the National Research Ethics Service (NRES), the Medicines and Healthcare products Regulatory Agency (MHRA), and the Faculty of Pharmaceutical Medicine of the Royal College of Physicians. He has enhanced the safety of trial volunteers, and helped assure the integrity of trial data, by fostering the development of The Over-Volunteering Prevention System (TOPS).
Malcolm is very supportive of Clinical Pharmacology and Pharmaceutical Medicine at St Bartholomew's Hospital and The London School of Medicine and Dentistry, and King's College, London. In 1999, he helped Professor Atholl Johnston develop an MSc course in Clinical Drug Development. Over the last 20 years, Malcolm and his colleagues at HMR have given freely of their time and contributed a major part of the course, providing practical advice and teaching in clinical pharmacology at Barts. The students have received real-life, up-to-date teaching and training in drug development methodology, which has been invaluable in their future careers. He has also supported students and others starting careers in pharmaceutical research by providing on-the-job training at HMR.
Malcolm has developed, financed, and grown HMR into the largest unit of its kind in the UK and one of the largest in Europe. He has supported the training of many doctors, nurses and scientists in clinical trial methodology. Also, he has given his time to scientific, industry, and government organisations, to help ensure that clinical trials are carried out in the UK effectively, safely, and ethically. For those contributions to Pharmaceutical Medicine, Malcolm Boyce is awarded the Medal of the President of the Faculty of Pharmaceutical Medicine.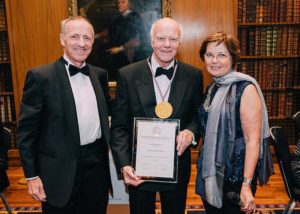 Dr Ian Hudson
Dr Ian Hudson is a physician who practised as a paediatrician for several years, before working in the pharmaceutical industry in clinical research and development and then devoting himself to the regulation of medicines and devices.
Dr Hudson joined the former Medicines Control Agency (MCA) as Director of its Licensing Division in 2001. Following its merger with the Medicines Devices Agency in 2003, the MCA became the Medicines and Healthcare Products Regulatory Agency (MHRA), and Dr Hudson assumed the role of its Director of Licensing, a post he held until 2013. During this time, he developed the unit to be one of the most highly regarded licensing unit in Europe and was responsible for the majority of the MHRA's medicines' licensing activities. He was also the UK delegate to the Committee for Human Medicinal Products (CHMP) and was its vice-chairman from October 2012 to August 2013. In September 2013 Dr Hudson's achievements saw him appointed as Chief Executive of the MHRA, a position that he held until September 2019.
Dr Hudson commands huge respect from his peers nationally and internationally due to his unparalleled breadth and depth of experience in medicines and medical devices regulation. He has promoted the UK as a centre of excellence for first-in-man clinical trials, ensured MHRA was able to contribute to vital research (including into vaccines) on Ebola, Zika, Polio, and oversaw MHRA's lead work on combatting falsified and counterfeit medicines in the UK and globally. He was Chair if the International Coalition of Medicines Regulatory Authorities between 2016 and 2019.
In the UK, Dr Hudson has been a strong advocate of the Early Access to Medicines Scheme which allows patients with serious life-threatening conditions to receive medicines which transform their outlook in advance of a full marketing authorisation. He has also been at the forefront of work to increase support to innovator companies by such developments as joint scientific and regulatory advice, the creation of an Innovation Office and assistance to small and medium sized enterprises in emergent fields of biotechnology and advanced therapies.
Over the past three years Dr Hudson worked tirelessly to ensure MHRA was prepared to continue to undertake its vital role following Brexit. Throughout, he has striven to ensure that the MHRA would continue to be a unique, leading global regulator with its primary focus still centred on protecting and promoting UK public health.
Following his recent retirement as Chief Executive of the MHRA, Dr Hudson joined the Bill and Melinda Gates Foundation as a senior advisor.
Dr Hudson is a highly regarded civil servant whose contributions to the regulation of the quality, efficacy and safety of medicines, medical devices and other healthcare products have been outstanding. He is acknowledged as an influential voice on scientific matters. For his many achievements in, and contributions to, the field of pharmaceutical medicine, as well as his selfless commitment to the safeguarding of public health, Dr Ian Hudson is awarded the Faculty of Pharmaceutical Medicine President's Medal.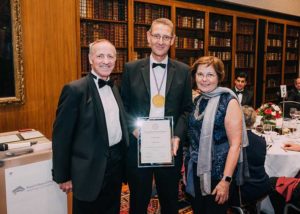 Dr Richard Kay
Dr Richard Kay is well known amongst pharmaceutical physicians, as a distinguished statistician, who provides extensive consultancy and training services to the pharmaceutical industry under his banner of RK Statistics Ltd.
After spending 15 years in academia at the Universities of Salford, Heidelberg and Sheffield, he set up his first company, S-Cubed, in 1989, which subsequently merged, in 1997, with Parexel International. He held the position of Vice-President at Parexel and was Worldwide Head of Statistics and Statistical Programming from 1999 to 2004. In 2005 he left Parexel to focus on his core interests through RK Statistics Ltd.
Dr Kay has been visiting Professor at the School of Pharmacy, Cardiff University since 2010. His connections with pharmaceutical medicine also began there several years before, and he has taught medical statistics and critical appraisal modules on the Postgraduate Course in Pharmaceutical Medicine to countless FPM members and colleagues.
Dr Kay undertakes a wide range of work intimately connected with all aspects of medicines development: from training courses for statisticians and non-statisticians, as an independent member of Data Monitoring Committees and Data and Safety Management Boards across all phases of clinical development in a large variety of therapy areas, and as Statistical Consultant on the design and analysis of clinical studies in support of regulatory submissions. He is also a section editor of the Pharmaceutical Statistics journal.
For over twenty years he has been integral to the development of the curriculum for Pharmaceutical Medicine Specialist Training (PMST), and for the statistical and data management content and update of the Syllabus for Pharmaceutical Medicine, from which courses, curricula and examinations are derived. This is a contribution of great importance to the international development of Pharmaceutical Medicine as a discipline and for the development of professionals and specialists in the field.
Dr Kay has equally quietly stamped his authority, charm and very professional approach on statistics for non-statisticians in practice. Learning from doing, theory into practice are Dr Kay's trademarks, and he has endeared himself to his students as an exceptional and memorable communicator and practitioner of this fundamental area of our practice, difficult though it is to the mathematically-challenged!
For over two decades Dr Kay has been at the heart of Pharmaceutical Medicine, FPM, the Diploma in Pharmaceutical Medicine and PMST, ensuring that our data and their interpretation and communications are factual, unbiased and well-balanced. For these contributions to Pharmaceutical Medicine, Dr Richard Kay is awarded the Faculty of Pharmaceutical President's Medal.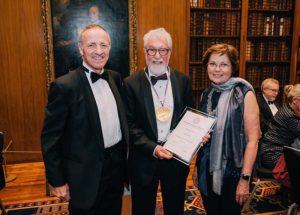 Professor Martin Kendall
Professor Martin Kendall is Emeritus Professor of Clinical Pharmacology at the College of Medical and Dental Sciences, University of Birmingham. Appointed Senior Lecturer and Consultant in 1975, initially working under Professor Owen Wade. This was after having been an MRC Senior Fellow training in clinical pharmacology for a year, which he spent working in Ciba-Geigy, UK, supervised by Dr John Domenet. He was later appointed Professor and trained a generation of doctors, some of whom became clinical pharmacologists working in the NHS, Academia and the drug industry.
Professor Kendall was, from 2000 to 2008, the chair of the British National Formulary (BNF) Joint Formulary Committee, which oversees the clinical content of the BNF. He is a past chair of its Formulary Development Committee where he steered the committee with a great sense of responsibility for what is clinically relevant to those responsible for the prescribing, dispensing and administration of medicines. He was also a keen lobbyist for the creation of a paediatric version of the BNF, culminating in the publication of the first BNF for Children in 2005. Additionally, he had always been keen to ensure that the BNF met the needs of nurses and dentists and to that end he set up BNF advisory groups for these health professionals. More recently he has supported the digital development of the BNF.
During his career he had close associations with the MHRA and sat on the Commission for Human Medicines. He is also an Honorary Fellow of the Faculty of Pharmaceutical Medicine.
Professor Kendall receives the award of the President's Medal in recognition of his contribution to the Pharmaceutical Medicine Specialty Training (PMST) programme. When the programme was initially set up in 2003 Professor Kendall's determination and encouragement convinced the Medicines and Healthcare Products Regulatory Agency (MHRA) that all new doctors who joined them as Medical Assessors should take the CCT in Pharmaceutical Medicine as part of their training. He then took on the role of Specialty Advisor at the MHRA and led the programme from inside the agency. The MHRA have since risen to be in the top three organisations that provide the PMST programme for their trainees and the CCT in Pharmaceutical Medicine is now firmly established in the training programme at the MHRA with a significant number completing their CCT there.
For this reason and for all the work he has done in relation to training in clinical pharmacology and his influence on improving prescribing at all levels in the UK, Professor Martin Kendall is awarded the Faculty of Pharmaceutical Medicine President's Medal.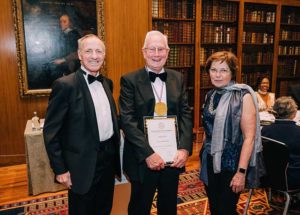 Dr Juliet Roberts
Dr Juliet Roberts is an inspirational leader and mentor for the specialty of pharmaceutical medicine. Through her clinical development work in various different roles at Boehringer Ingelheim, she has helped bring innovative new medicines to benefit patients.
Dr Roberts is also passionate about education, training and qualifications for pharmaceutical physicians. She is an educational supervisor, a specialty advisor, and a responsible officer for Revalidation at her company. She has been Chair of the FPM Board of Examiners for six years and Vice-Chair before then. During her tenure as Chair she has worked tirelessly to deliver high quality examination papers for the Diploma in Pharmaceutical Medicine (DPM) exam every year and to continuously improve the examination processes. She has delivered all this in addition to her full-time job by working during weekends, evenings and even holidays.
Dr Roberts has been a great leader of the FPM Board of Examiners, keeping momentum, focusing on quality deliverables and ensuring fair assessments in the exams. She is a tireless champion for Pharmaceutical Medical Specialty Training (PMST) and promotes the DPM as a fair and passable exam. She takes every opportunity to encourage potential trainees and exam candidates to undertake the training and she is also involved with the pilot to include pharmaceutical medicine in the medical undergraduates curriculum at the Brighton and Sussex Medical School. Dr Roberts enthusiasm for the specialty of pharmaceutical medicine knows no limits.
For her professionalism, commitment and sheer hard work to raise the profile of the specialty of Pharmaceutical Medicine for the benefit of improved patient outcomes, wider society and the next generation of pharmaceutical physicians, Dr Juliet Roberts is awarded the Faculty of Pharmaceutical Medicine President's Medal.