FPM President's Medal awarded to Ruth Dixon
Posted on: Tuesday 27 June 2023
Author: FPM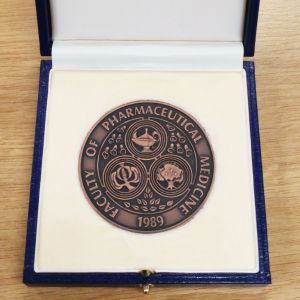 Dr Ruth Dixon has been awarded the prestigious FPM President's Medal at the 2023 FPM Annual Awards Ceremony.
The FPM President's Medal is the highest honour FPM can bestow and recognises exceptional individuals who have gone above and beyond to deliver fundamental and transformational change to the field of pharmaceutical medicine. Just one medal is awarded each year and Dr Dixon succeeds Prof Alan Boyd (2022) and Dr Susan Bews (2021) in receiving this honour.
The awarding process is a rigorous one and starts with an invitation to all FPM members to submit nominations. The Fellowship and Awards Committee judges each nomination on its individual merit and a final decision is agreed by a vote. The nominated awardee is presented to the Board for final approval.
The winner receives a physical medal and is invited to our annual awards ceremony where a citation is read by their nominator and they receive formal commendation of their achievements amongst their peers.
Citation given by nominator Dr Juliet Roberts FFPM
Dr Ruth Dixon qualified in medicine from the University of Leeds. After working in the NHS and gaining MRCP by examination in 1990, Ruth moved into the pharmaceutical industry, working in various clinical pharmacology and pharmacovigilance roles. However, her reach has gone beyond her current and previous employing companies and their medicines.
Ruth has been a leading light in the education of pharmaceutical physicians for over two decades. Having passed the Diploma of Pharmaceutical Medicine (DPM), Ruth became a DPM examiner in 2003, and has been the longest serving member of the Officers of the Board of Examiners, including as Essay Convenor, Secretary, MCQ Convenor and then a three year term as Chair ending December 2022.
It was Ruth that came up with the idea for, and then led by authoring for many years, the Board of Examiners newsletters, intended for the wider examiner board but also shared with Educational Supervisors and trainees for PMST as a means of sharing of best practice and top tips for the DPM exam.
In her first year as Chair, and with the onset of the COVID pandemic, Ruth led the conversion of DPM to a virtual setting. In addition, Ruth:
is a FPM revalidation appraiser having been previously Appraisal Lead/Deputy RO in 2 former companies,
has been an Educational Supervisor to trainees in PMST,
has been an external examiner for the University of Surrey MSc in pharmaceutical medicine,
contributed to the Diploma in Human Pharmacology in the early days as a QC reviewer of external courses and on the advisory panel,
has been a peer reviewer for the British Journal of Clinical Pharmacology.
Winners of the President's Medal make significant contribution to the advancement of pharmaceutical medicine, helping to improve and transform lives and drive change through their professionalism, commitment, creativity and sheer hard work. Dr Ruth Dixon has achieved all of these attributes, and in doing so inspired colleagues working for, and alongside her.
Fellows, Members and Guests, in recognition of her many contributions to the specialty of pharmaceutical medicine, I am delighted to announce Dr Ruth Dixon as a recipient of the President's Medal.
Acceptance speech from Dr Ruth Dixon
Due to a diary clash Dr Dixon was unable to collect her medal in person however she recorded a short acceptance speech that was played in the auditorium, a transcript of which follows:
Hello everyone. Thank you to the FPM for this award and thank you to Juliet for nominating me and for the citation. I'm really sad that I can't be with you this evening, but we have a big meeting at work which I could not miss.
I've been on the board of examiners for the best part of 20 years until my term as chair was up at the end of 2022. It's been a lot of fun as well as being educational for me (great CPD for medical appraisal). I've worked alongside many dedicated hard working friends and colleagues who gave up so much of their time to help the FPM maintain high standards and to help students of pharmaceutical medicine and clinical pharmacology pass the exams. I'd like this medal to recognise the contribution of all past and present members of the board of examiners and thanks once more to the FPM for that acknowledgement.
About Dr Ruth Dixon
I trained in medicine at the University of Leeds and did my pre-registration house officer jobs and then several years in general medicine in Yorkshire, followed by a brief period as a general practitioner for the British Army of the Rhine in Germany during Gulf War 1.  I have now been in the Pharmaceutical industry for over 30 years, starting my career as a clinical research physician in Wellcome's clinical pharmacology group with John Posner as my head of department. I was in clinical pharmacology for approximately 15 years and I used to say that I'd had three jobs and worked for six different companies, having gone through several acquisitions and mergers. For the last 15 years I've been in pharmacovigilance, with GSK and PPD and now with Eisai, a mid-sized company headquartered in Japan which specialises in oncology and neurology, where I head the international pharmacovigilance department.
Back in 2003, my old boss John Posner invited me to join the FPM's Board of Examiners as the essay paper convener and after that I acted variously as secretary, MCQ paper convener and, in the last three years, Chair of the BoE. During my tenure as chair, the pandemic year 2020 brought the challenge of implementing the exams in pharmaceutical medicine and human pharmacology in an electronic format, so that candidates could sit them online without having to travel to an examination centre. I maintain my licence to practice and have been an appraiser for medical revalidation since 2012, conducting appraisals for the FPM as well as for my employer companies. I'm proud to be a Fellow of the FPM and have recently been awarded Global Fellow in Medicines Development.