FPM media statement on Novavax COVID-19 vaccine
Posted on: Friday 29 January 2021
Author: FPM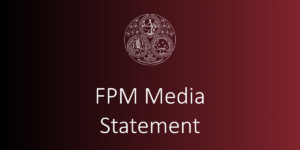 The Faculty of Pharmaceutical Medicine (FPM) welcomes the release of the data from the interim analysis of the first Novavax COVID-19 vaccine Phase III trial. The vaccine was studied in over 20,000 patients across the UK and South Africa, and showed efficacy of 89% in the UK trial (56 cases on placebo and 6 on vaccine). Importantly, the timing of the trial overlapped the emergence of the "UK variant", and over half the UK cases had this strain: the vaccine showed 86% efficacy in these patients. A quarter of the patients were over 65 years of age, and no serious safety signals were reported.
This vaccine uses a novel nanoparticle technology in which the complete spike protein of SARS-CoV-2 is linked to a proprietary adjuvant, Matrix-M, which enhances the immune response. This is a more traditional approach to vaccine development than the mRNA and viral vector vaccines already approved: the GSK/Sanofi vaccine also uses a protein/adjuvant approach but failed to show sufficient immune responses and has been delayed.
In a preliminary analysis of a smaller, Phase 2 study in South Africa, efficacy was also observed in protecting against the South Africa variant which was dominant by the time of the trial; the estimate of efficacy was lower (60%) because of fewer cases, but the confidence limits were broad and overlapped those of the larger study. Of interest, one third of the patients enrolled were positive for prior Covid-19 infection, suggesting that prior infection with the wild type virus may not completely protect against the new variant.
Novavax has started a rolling submission to the MHRA, who will review the data and make a decision on whether to authorise the vaccine for use in the UK. The UK, which helped to fund the development and manufacturing, has ordered 60m doses of the vaccine, which will be manufactured in Stockton-on-Tees. Shipments are reported to be starting by April.
This is yet more good news for the effort to develop a range of vaccines against Covid 19, and is the first clinical data suggesting efficacy against the current UK and South Africa variants.
If needed, this technology can also be rapidly adapted, to address emerging strains. The consensus is that full scale clinical trials will not be needed to approve new versions of the various vaccines.
This statement was prepared by Gillies O'Bryan-Tear with input from Sheuli Porkess, Penny Ward, Craig Hartford and Renata Crome.