Dr Susan Bews awarded FPM President's Medal
Posted on: Friday 17 September 2021
Author: FPM
Dr Susan Bews is the Responsible Officer for the Faculty of Pharmaceutical Medicine's Designated Body and is a past President of FPM. She has been pivotal in developing the structures and processes for appraisal and revalidation, which enable more than 600 FPM members to maintain their status as licensed medical practitioners. Dr Bews' commitment to medical governance and her oversight of the standards and systems ensure that revalidating pharmaceutical physicians are able to demonstrate that they are up to date and fit to practise in line with GMC requirements.
Dr Bews was a founder member of FPM and served on the inaugural Board. She was a long-standing UK company medical director, served on government, industry and medical bodies (the Medicines Commission, chair of the ABPI medical committee, member of the ABPI Code of Practice Appeal Board and as treasurer of the Academy of Medical Royal Colleges) and has been a 'lay member' for other professional regulators dealing with complaints against barristers, solicitors and surveyors.
Dr Bews' service and commitment to the aims and mission of FPM, the establishment and development of our designated body, and the development of our specialty are immense and are duly recognised today with the award of President's medal.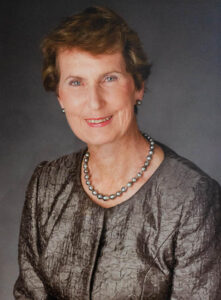 In her own words...
"I feel so very privileged and honoured to receive the President's medal. It is the Faculty's highest award and to receive that from an organisation that has always been so close to my heart is very, very special for me. My own commitment to the Faculty has always been a personal pleasure, but I would not be receiving this if it had not been for the encouragement and support from so many colleagues during that time and I want to record my very sincere thanks to all those colleagues past and present.
When I was informed that I would be awarded this honour I felt overwhelmed. It is the Faculty's highest honour and looking at the very eminent list of previous awardees I never dreamt that I might be joining them. They have all done so much to establish our speciality and raise standards. I believe that previously the nominees have been individuals but for me the fact that this was a team nomination by our three appraisal Leads, Sharon, Mike and Asad was the icing on a wonderful cake. I felt very humbled that they had joined up to do this. That team joined-up nomination also reflects the fantastic wider team spirit that we are so fortunate to have in revalidation including with  all our hard-working appraisers.  
I consider I have been very privileged with my career choice and I hope that all of you here, starting out or already on this journey, will find it as fulfilling as I have done. I am where I am not through meticulous planning but from serendipity and seizing opportunities offered whether those opportunities are within or outside of medicine – and it doesn't have to be an either or. I joined the industry when it was still not a completely respectable career choice. The inauguration of this Faculty with its clear acceptance by the three Royal Colleges of Physicians – due in large part to the inspiration and drive of our incoming president – set the scene for changing the negative perceptions. I was privileged to be on the inaugural board and have remained privileged to be a continuous part of the Faculty in a variety of guises. Like all of us who contribute to the Faculty's work, I have always wanted pharmaceutical physicians to be seen and treated as equal to their clinical peers.
When revalidation was first mooted by the GMC if we were to continue to be considered as equals, it was critical that we found a way to make revalidation and retaining a licence to practice work for pharmaceutical physicians across the ever increasing number of companies large and small. I have been so grateful to all those who shared this view and supported me, from the eighty doctors who were prepared to be cajoled into joining the GMC pilot in which we needed to establish our credentials and then continuing with the presidents and boards and to unfailing support from the staff, Katie over a long period and more recently Tony and Marcia. This award is a recognition of their contribution too."