FPM Journal Club, guest host Dr Jeff Hsu (MSc, MD)
15th July 2020
12:00 - 13:00
About the FPM Journal Club
The FPM Journal Club, launching with the May 2020 edition, will meet via webinar once a month.
For each meeting we invite a guest host from our membership to choose a paper and lead discussions with a small group of attendees.
There are many benefits of taking part, including the following:
Increase your knowledge
Reflect on your practice
Share insights and ideas in a relaxed and supportive setting
Encourage evidence-based medicine
Keep abreast with new literature
Stimulate debate, and improved understanding of current topics
Develop your presentation skills
Build your network
Gain participatory CPD hours towards revalidation
About journal clubs
Journal clubs are educational settings where individuals meet regularly to critically evaluate articles in the medical and scientific literature.
They are a recognised way of keeping up to date with latest advancements in areas of interest.
This month's paper
Highly precise risk prediction model for new‐onset hypertension using artificial intelligence techniques
Kanegae et al. (2019) Journal of Clinical Hypertension. https://doi.org/10.1111/jch.13759
Background
Artificial intelligence (AI) has gained attention in recent years, and has been applied in clinical medicine settings extensively due to the increased precision and ability to analyse larger amounts of data than a human brain could ever manage.  Hypertension is a significant factor in contributing to cardiovascular diseases, and the ability to predict its occurrence could lead to better prevention and control.  With the use of models developed through the AI technique, hypertension risk could be accurately predicted.
Methods
18,258 individuals' data were collected and 3 models were used in order to develop a tool to predict hypertension risk.  The receiving operating characteristic (ROC) curve and the value of area under curve (AUC) were used to evaluate model precision.
Inspired by the recent FPM publication on the use of AI, I chose this paper as it presents a different aspect of how AI can assist health caring professionals, not only in the clinical settings, but also the public health field. I have a strong interest in the space where technology and medicine combine, and am a firm believer that good use of AI will bring immense benefits to the patients.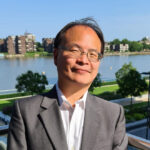 About our host
A multi-lingual and multi-cultural physician who grew up in 3 different countries, with over a decade of experience working in both the medical and commercial world. Dr Jeff Hsu is an expert in the field of immunology and infectious diseases having trained in LSHTM with double MSc degree.  He has a strong passion for health technology and medical education, and is a die-hard All Blacks and Lakers fan and a keen Scottish Reeler.
Bookings
This event is open to FPM members only.
FPM will close bookings once all 40 places are booked (and no later than 16:00 on Tuesday 14 July 2020). See our Terms & Conditions for booking and please note our privacy policy.
Queries: If you are unable to complete your booking online or you would like to be invoiced, please email training@fpm.org.uk or call 020 3696 9040.
Joining instructions will be emailed to registered attendees on the morning of the webinar (15 July 2020).
CPD
If you attend this webinar you can use it as CPD for your appraisal. To do so you'll need to provide:
evidence (certificate of attendance), and
reflection, specifically a couple of paragraphs on what you learnt, what effect it will have on your current practice and how it relates to Good Medical Practice.
Upload these into your portfolio and self-allocate your CPD points at 0.25 credits per 15 mins.