Online Annual Awards Ceremony 2020
Friday 15 January 2021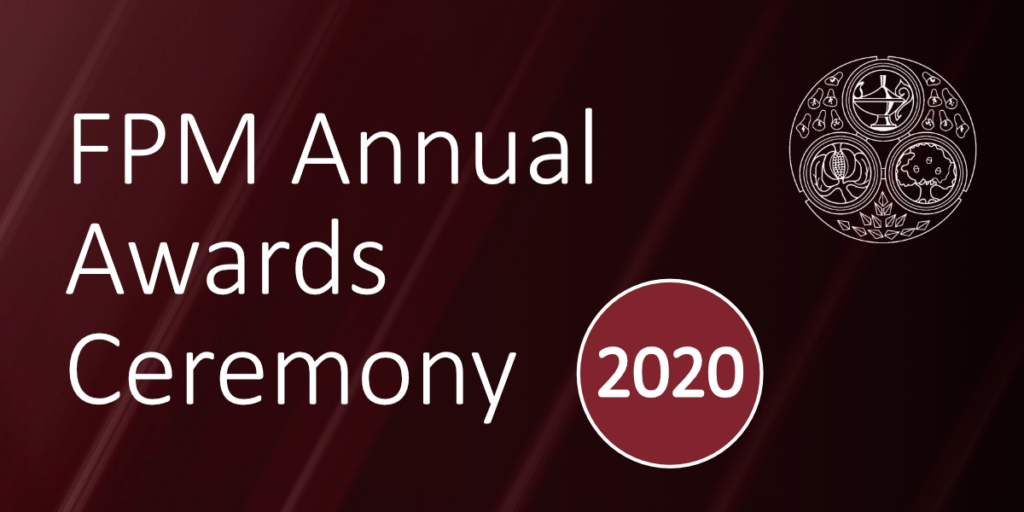 This year our Awards Ceremony will take place online, over the course of a week.
Because we can't meet face-to-face, we are planning something different from the norm. We want to maximise the way in which we celebrate our member's achievements.
We will be showcasing 2020's new entrants onto the Pharmaceutical Medicine Specialist Register, new Members, Honoraries and Fellows and the FPM President's Medal Awardees with a week-long social media campaign, culminating in an online "ceremony" during which our President and members of the Board will officially congratulate everyone on their successes.
Keep an eye out in January for our blog posts spotlighting specific awardees, our LinkedIn posts and video messages from our new awardees and their nominators, and follow us on Twitter for updates and spotlights throughout the week.
Online Awards Ceremony 15 January 17:30-18:15
All members of FPM are invited to attend an online Awards Ceremony. This will be held at the end of the week via Zoom. This is an opportunity for us to come together to celebrate the successes of those who make up our community.
We would love it if you could use our virtual background, which you can download by clicking the image on the right, then right clicking "Save As". More information on how to use virtual backgrounds can be found here.
Join the online Awards Ceremony | 15 January | 17:30-18:15
FAQs
How can I attend?
All members are welcome to attend the ceremony, and you can book online following the link above.
Everyone who is eligible for an award has been contacted directly and will receive the joining instructions. If you think that you have been missed, please email events@fpm.org.uk 
Can my family and friends attend the online ceremony?
Absolutely! We will send you the Zoom invite and you are free to share this with anyone that you would like to attend.
Will I be able to come to an in-person Awards Ceremony next year instead?
Unfortunately this is unlikely. Our in-person Awards Ceremony usually has 150+ attendees. There are obvious concerns around social distancing, what venues are able to provide and how to keep everyone safe. Next year, if we can hold an in-person event, we will be prioritising everyone who is eligible to attend the Awards Ceremony 2021. If there is space, we will invite everyone who attended the 2020 online ceremony and places will be given on a first-come, first-served basis.
Once it is safe to hold larger in-person events again, we hope to hold some social events in order to reconnect after what has been a very surprising year!