John Ndikum: From Yale to COVID-19 (a personal reflection)
Friday 16 October 2020
12:00 - 13:00
A poem by Dr John Ndikum written for FPM
Humanity in Calamity
In this inspirational talk, Dr John Ndikum joined our Chief Executive Dr Marcia Philbin for a 'fireside chat', in which he shared his poetry and passion for social justice.
John talked about his journey into medicine, how his experiences as a black doctor have shaped him, and his reflections on working in the front line of the current COVID-19 pandemic.
This talk touched on issues of race, ethics and values, in medicine generally and in light of COVID-19.
John finished by reading a beautiful poem that he composed especially for FPM, titled "Humanity in Calamity".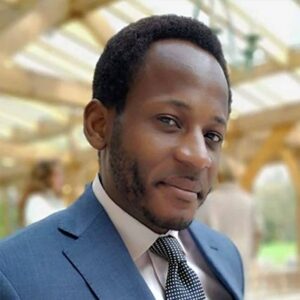 Humanity in Calamity
'Tis said victory is sealed by guile,
But this enemy did beguile
Those that it felt fit to assail
When e'en medicine was of no avail.
A global conquest did ensue
That struck not only a few.
And politicking reached fever pitch;
Power extending beyond its reach.
Yet amidst the storm, my learned friends
Did softly to others tend,
And as a balm, their camaraderie
Made for a healing reverie.
I witnessed love and harmony,
Aye – a true spiritual victory;
When what began as a global debacle
Became a blessed spectacle.
Of nurses, physicians and domestic staff:
Those of every clime and class
United – risking life – to patiently
Teach us the meaning of true humanity.
Dr JFW Ndikum
About John
Dr. John Ndikum's work – as versatile as it might  appear  – can be condensed in a simple phrase that guides his actions: the creation of and contribution to institutions that promote optimal human health, vitality and wellbeing. 
Dr. Ndikum holds medical and neuroscience degrees from the University of London and a Masters in Public Health from Yale University. He works in general medicine with a focus on internal and pharmaceutical medicine, the latter for which he serves as a Principal Investigator for Alzheimer's Disease.  He is currently working as a medical doctor during the COVID-19 pandemic.
Dr. Ndikum is General Secretary for the public health organization 'Inspiral Health' as well as a public health advisor for Rotary International, with whom he secured a scholarship to attend Yale. He provides mentorship and coaching through his burgeoning social enterprise 'Zero Entropy Consulting'. Through this he has assisted several students in securing admission to medical school.
In addition, he serves on the management team for 'Reach Society', a charity which was awarded the Queen's Award for Voluntary Service (QAVS) in 2017 and whose most recent careers conference secured over 1700 attendees! Reach Society has forged connections with several universities including Durham, Bristol and Glasgow, spearheading the reparations scholarship program initiated by the latter, to provide support to students of the Afro-Carribean diaspora.
In 2016, Dr. Ndikum published an anthology of 170 poems which chronicles his philosophical explorations into metaphysics, a subject about which he remains passionate.
Dr. Ndikum is committed to social justice and in this connection has maintained close connections with the Yale School of Public Health, with whom he and a few classmates spearheaded what was to become Yale's Social Justice oriented curricula.
After the event, attendee Dr Jumi Isibor felt inspired to send us a poem of her own which we share below with her permission:
Teach Them
Teach them the value of humanity, the WHOLE of humanity.
Teach them equality AND diversity.
Teach them to see colour, ALL the colours.
Teach them to embrace the similarities and the differences.
Teach them not to fear the colour or to see the colour as a barrier to partnership or friendship.
Teach them that there are good and bad in every colour and that they should learn to make up their own mind on who is who.
Teach them to be brave to stand on the side of justice, even when it may be a lonely ride.
Teach them that we are all God's creation and that it's the heart of man that truly matters.
Teach them that although the world is divided in so many ways, they have the capacity to be the change for building community and peace within their spheres of influence.
Teach them.
Dr Jumi Isibor
Rewatch the webinar
From Yale to COVID-19