FPM Journal Club with guest host Dr Martin Lunnon
Wednesday 13 December 2023
12:00 - 13:00
This session of Journal Club is hybrid and we welcome our guest host Dr Martin Lunnon.
Dr Martin Lunnon has chosen to review:
Mezigdomide plus Dexamethasone in Relapsed and Refractory Multiple Myeloma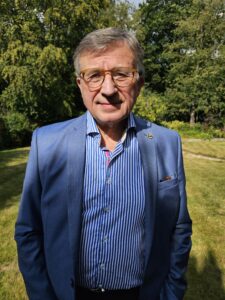 About your host
For the vast majority of his professional career Martin has worked in the Pharmaceutical Industry and for the most of this in early phase clinical drug development; he is a clinical pharmacologist and has been involved in the development of over 30 new molecular entities, including biological products, but also including some later phase work, in a variety of therapeutic areas (cardiovascular, central nervous and more recently musculoskeletal).  Martin has worked for British, American, Swiss, Japanese, French and Norwegian­­­­­­ companies. The most recent position in 'Big Pharma' was with Sanofi R&D in Paris, which included involvement in a project for rare diseases. Following 7 years in France and return to England, Martin was appointed as visiting Senior Lecturer at King's College London and taught on MSc courses in the Institute of Pharmaceutical Sciences until just before the COVID pandemic.
In addition he has acted as a consultant to 2 small pharmaceutical companies developing drugs for rare neurological diseases. Martin has been involved with Committee work for a good part of his career: the Society of Pharmaceutical Medicine (1987 to 2010, finishing as Chairman), where he was the Convenor of a Working Party on Pharmacogenetics which reported at the Royal Institute in 2000 and the British Pharmacological Society (BPS), member for over 30 years and served on the Committee of the Clinical Section of BPS and sometime reviewer for the British Journal of Clinical Pharmacology.
Registration is required to attend this free hybrid event.
FPM members only - online - free
FPM members only - attending in person (FPM office) - free
About journal clubs
Journal clubs are educational settings where individuals meet regularly to critically evaluate articles in the medical and scientific literature.
They are a recognised way of keeping up to date with latest advancements in areas of interest.
---
Host a Journal Club
There are many benefits of taking part, including the following:
Increase your knowledge
Reflect on your practice
Share insights and ideas in a relaxed and supportive setting
Encourage evidence-based medicine
Keep abreast with new literature
Stimulate debate, and improved understanding of current topics
Develop your presentation skills
Build your network
Gain participatory CPD hours towards revalidation
If you would like to host a Journal Club, please email events@fpm.org.uk and let us know.
---
CPD
You can find instructions and guidance regarding CPD eligibility here.
Queries: If you have any questions please email events@fpm.org.uk.
Joining instructions will be emailed to registered attendees periodically, and a reminder will be sent on the morning of the Journal Club (13 December 2023). Please check your junk folder!
---
Where to find us
Our headquarters are located in Angel, London:
19 Angel Gate,
326a City Road,
London
EC1V 2PT
The views, information, or opinions expressed during FPM events and training are those of the individuals involved and do not necessarily represent those of the Faculty of Pharmaceutical Medicine. We value inclusivity, equality and diversity, and work hard to promote these whenever possible in all of our activities. We welcome your comments or questions: events@fpm.org.uk