FPM Education Week 2021: Pharmacogenomics & rare diseases
Wednesday 2 June 2021
16:00-17:30
Advances in clinical genetics and the development of treatment for rare genetic disorders

Workshop 2 | 2 June |
16:00-17:30 GMT+1
This year's Education Week is all about genomics and genomic applications in pharmaceutical medicine. Since the successful sequencing of the human genome in 2003, new avenues for pharmaceutical medical research and development have rapidly evolved. This has led to a greater understanding of the genetic contribution to variability in clinical pharmacology and predisposition to drug safety concerns, improved understanding of the genetic basis of disease leading to the evolution of precision therapeutics and, finally, the development and approval of the first gene therapies offering potential for cure of genetic disorders.
Our panel of speakers are all experts in their fields of pharmaceutical development. Education Week 2021 aims to enable you to better understand the challenges and benefits to be gained by applying genomics to the development of new treatments. As ever the sessions will leave time for audience debate and discussion.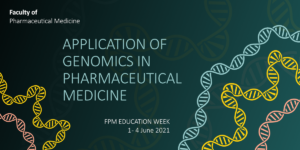 Part of FPM Education Week
Tuesday 1 June 16:00-17:30 GMT+1
Prof John Posner
Pharmacogenomics in clinical pharmacology and screening as a contribution to the safe use of medicines
Wednesday 2 June 16:00-17:30 GMT+1
Dr Duncan McHale
Advances in clinical genetics and the development of treatment for rare genetic disorders
Thursday 3 June 16:00-17:30 GMT+1
Dr Tony Lockett
Health Technology Assessment of Genomic Medicines
Friday 4 June 16:00-17:30 GMT+1
Dr Arseniy Lavrov
Clinical Development and Marketing of Gene Therapy
Booking for this session is now closed
FPM members £55
Non-members £85
Reduced rate* £35
or you can buy all 4 workshops for the price of 3
*Reduced rates are available for:
People from low and lower-middle income countries; PMST trainees; Unemployed; Part-time employed (earning less than £15,000 per year); People on Parental Leave; People who are Out of Practice & Retired; Charity representative
About the speaker – Dr Duncan McHale
Dr Duncan McHale is a clinician scientist and early drug development specialist with over 20 years' industry experience. He co-founded Weatherden and helps lead the strategic direction of the company, whilst also actively supporting clients with his clinical development expertise. He is Chief Medical Officer at Evelo Biosciences and a Venture Partner at SV Health Investors. With previous roles as Vice President and Head of Global Exploratory Development at UCB, Vice President for Personalised Healthcare and Biomarkers at AstraZeneca, and European Head of Translational and Molecular Medicine at Pfizer, he has over 20 years' experience working across pharmacogenetics, early development and personalised medicine across multiple therapeutic areas. Duncan completed his PhD in genetics at the University of Leeds and was Visiting Professor in Clinical and Molecular Pharmacology at the University of Liverpool. Previously Chairman of the EFPIA pharmacogenomics working group, Duncan has sat on multiple Medical Research Council panels and was the Innovative Medicine Initiative's lead on Molecular Taxonomy of Human Disease.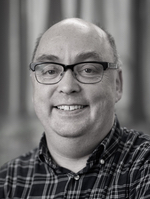 Booking Information
Bookings will close at 12:00 on the 2 June.
Queries:If you are unable to complete your booking online or you would like to be invoiced, please email training@fpm.org.uk  / events@fpm.org.uk 
Joining Instructions will be sent periodically, with a final reminder sent 1 hr before each session.
CPD
If you attend this course you can use it as CPD for your appraisal. To do so you'll need to provide:
evidence (certificate of attendance), and
reflection, specifically a couple of paragraphs on what you learnt, what effect it will have on your current practice and how it relates to Good Medical Practice.
Upload these into your portfolio and self-allocate your CPD points at 0.25 credits per 15 mins.
The views, information, or opinions expressed during FPM events and training are those of the individuals involved and do not necessarily represent those of the Faculty of Pharmaceutical Medicine. We value inclusivity, equality and diversity, and work hard to promote these whenever possible in all of our activities. We welcome your comments and feedback: events@fpm.org.uk