Fireside Chat with Steve Fuller
Thursday 19 October 2023
17:30 (UK Time)
In our Fireside Chat series, FPM welcomes inspirational speakers.
We open the floor, and allow them to talk about their career, their passions, and the things that they believe are important to advance the science and practice of pharmaceutical medicine.
Please join us to know: 'Why the life science sector needs diverse talent?'
Steve Fuller is a world-renowned musician who toured with the likes of Lilly Allen, Alicia Keys, and Labrinth before changing career direction.  He is now a recruitment manager in the life science sector and the Global Community Manager for Race in STEM, an international network initiative that seeks to encourage, inspire, and platform people of colour in the world of STEM.   In this Fireside chat, Steve will talk about his career in music and the life science sector.  He will share how he cultivates and challenges the life science sector to diversify its workforce.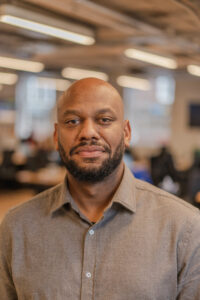 19 October 2023
Fireside Chat with Steve Fuller: Why the life science sector needs diverse talent
Booking is now closed
Please join us for what will be an engaging event with an inspirational man.
Please also help us to spread the word about the event amongst your colleagues, including those in HR.
Booking Information
Bookings will remain open until 15:00 on 19 October 2023.
Queries: If you are unable to complete your booking online or you have any questions, please email events@fpm.org.uk.
Joining instructions will be emailed to attendee's registered e-mail address, with a reminder sent shortly before the event.
Please see our Terms and Conditions and Privacy Policy.
The views, information, or opinions expressed during FPM events and training are those of the individuals involved and do not necessarily represent those of the Faculty of Pharmaceutical Medicine. We value inclusivity, equality and diversity, and work hard to promote these whenever possible in all of our activities. We welcome your comments and feedback: events@fpm.org.uk
CPD
If you attend this webinar you can use it as CPD for your appraisal. To do so you'll need to provide:
evidence (certificate of attendance), and
reflection, specifically a couple of paragraphs on what you learnt, what effect it will have on your current practice and how it relates to Good Medical Practice.
Upload these into your portfolio and self-allocate your CPD points at 0.25 credits per 15 mins.
Join us from anywhere in the world!