Session Spotlight – Mene Pangalos
Posted on: Friday 30 October 2020
How can the pharmaceutical industry meet future health patterns?
Join Mene Pangalos on Thursday 26 November 2020, 14:00 – 14:50
Turning science into medicine
The future treatment for many of today's complex diseases lies in discovering new biology, understanding and challenging scientific hypotheses and evolving the way we design and conduct our clinical trials. Improving R&D productivity is critical to the success of future drug discovery and development, with failure rates from pre-clinical development to launch often in excess of 90 percent.
The advent of data science, artificial intelligence and digital technologies, coupled with ever more sophisticated platform technologies has the potential to increase the probability of success, and to discover new medicines more efficiently and deliver them more effectively.
Our ambition is to transform the lives of patients with improved outcomes and a better quality of life, through more effective treatment and prevention, ultimately working toward a cure for some of the world's most complex diseases.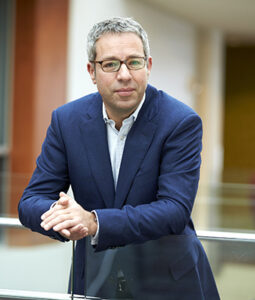 FPM Annual Symposium 2020
See the full programme and registration info