International Women's Day – RSC event
Posted on: Friday 6 March 2020
Author: Dr Marcia Philbin, Chief Executive, FPM
Royal Society of Chemistry Women in Science Event
On 5 March I had the pleasure of attending the Royal Society of Chemistry's (RSC) Women in Science event which was held in their magnificent Library and Council Room at Burlington House.
The RSC President, Professor Dame Carol Robinson and the RSC's Acting CEO, Dr Helen Pain were in conversation with Dr Suze Kundu who is Head of Public Engagement at Digital Science as well as a science presenter on the Discovery Channel's You Have Been Warned.
International Women's Day 2020 (8 March 2020) has a theme of "Each for Equal" which is about collective individualism.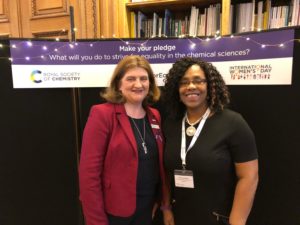 The event was well attended by a predominantly female audience where we learnt more about what inspired the speakers to pursue a career in chemistry.
Professor Dame Robinson and Dr Pain discussed how women often find it difficult to speak about their achievements and both speakers admitted that they tended to underplay their accomplishments.  It was agreed that women needed to stop apologising for their success and start celebrating it, just like men!
The importance of role models and a mentor was quite evident, particularly as it was noted that girls from a young age worry about not getting things right.  Professor Robinson said that she would tell her younger self to have more confidence and embrace failure because it builds resilience and is humanising.  Dr Pain said that she would tell her younger self to broaden her horizon and look out for the opportunities that could lead you on a path that you may not have considered.
The Q&A session was quite lively and discussed everything from diversity, inclusiveness, the "Mum" penalty and how to get paid what you are worth!  The conversation ended with each speaker sharing their pledge which they would add to the Pledge Wall.
Professor Robinson's pledge was to leave the chemistry culture in a better place.
Dr Pain's pledge was to help primary age children to have a go, to be brave.
Dr Kundu's pledge was to celebrate achievement.
Following the conversation, there was a networking reception with canapes and drinks where I extended my own valuable network.