Interview with FPM's new Treasurer
Posted on: Tuesday 15 November 2022
Author: Kamlesh Sheth
Our new Treasurer speaks about volunteering and invites you to apply for the Finance Committee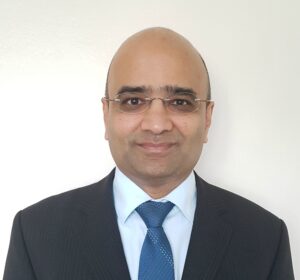 Hello, my name is Kamlesh and I'm honoured to be the recently appointed FPM's new Treasurer.
Mentoring and giving back have always been hugely important to me. I've set up a social enterprise company, mentor a variety of patient advocacy groups and have been on FPM and BrAPP committees for over fifteen years.
I'm passionate about pharmaceutical medicine and have gained so much from specialty and FPM over the course of my pharmaceutical career, so relish the opportunity to be able to give back. I appreciate FPM's commitment to hearing their members voices to achieve our joint aims. I've been part of various committees in the FPM over the last 15 years including the Finance committee, Training Committee, the Quality Assurance Group, Special interest networks and the DPM Board of Examiners with a special interest in addressing the issue of differential attainment amongst ethnic minority candidates.
For any organisation to succeed, including charitable organisations, financial stability is crucial. The Finance Committee's work, albeit not always visible, is hugely important – in setting financial strategy, financial governance and overseeing a long-term sustainable financial future for the Faculty. As a member of the Finance Committee, you have the chance to support and shape this work as it continually evolves, and can make a significant difference to your Faculty and our members. It is only on a basis of a solid financial foundation that we can serve our members and community of patients better.
---
Getting involved has been fantastically stimulating and allows you to have the privilege of working closely together with great people with huge talent, a wide array of experiences, fascinating perspectives and together – to further the aims of FPM and our members – and ultimately, our patient community.  I have learnt so much and look forward to learning much more and contributing even further. I hope my story can show you that members truly ARE the Faculty and I would without a doubt encourage you to get involved.
To paraphrase John F Kennedy: ask not what your Faculty can do for you – ask what you can do for your Faculty!