A festive greeting to our members, from Flic and Marcia
Posted on: Friday 17 December 2021
Author: FPM
As 2021 draws to a close we would like to offer all our members the compliments of the season and wish you all a fruitful and successful 2022.
2021 has proved, again, that FPM – our members, staff and all our stakeholders – are resilient and ambitious, and that by working together we can exceed expectations and deliver on our mission. The successes of the last year are too numerous to mention, but we would like to thank everybody involved for their commitment, belief and hard work.
We would once more like to offer our thanks and best wishes to our outgoing President – Prof Tim Higenbottam. Tim has led FPM through the challenges and disruptions of the pandemic with strength and purpose and we are grateful for his service. We now welcome a number of new trustees and committee members, and we look forward to working with you all in the coming months.
We thought you might like a quick round up of the extraordinary contributions made by pharmaceutical physicians to global health in 2021. There are some really heroic stories out there and whilst few of you are officially recognised as having been key workers during the pandemic, we know how many of you truly are and how hard you have all worked.
FPM members have been global leads on the clinical developments of vaccines, antivirals and other medicines involved in preventing and attenuating COVID-19 disease. Our regulatory members have also spearheaded new regulatory initiatives, such as rolling review, to provide the vital assessment of and continuous benefit risk evaluation of these medical interventions.
In spite of COVID-19, during 2020 and 2021 pharmaceutical physicians contributed to the registration of a record number of new drugs in Europe (Figure 1). Roughly half of the new products were for rare diseases and there have been some truly novel breakthroughs. You also worked supporting global HTA dossiers for new product approvals and, of course, continued post licensing work especially leading teams managing adverse event signals. Medical affairs physicians have been equally critical in informing and advising prescribing doctors and patients.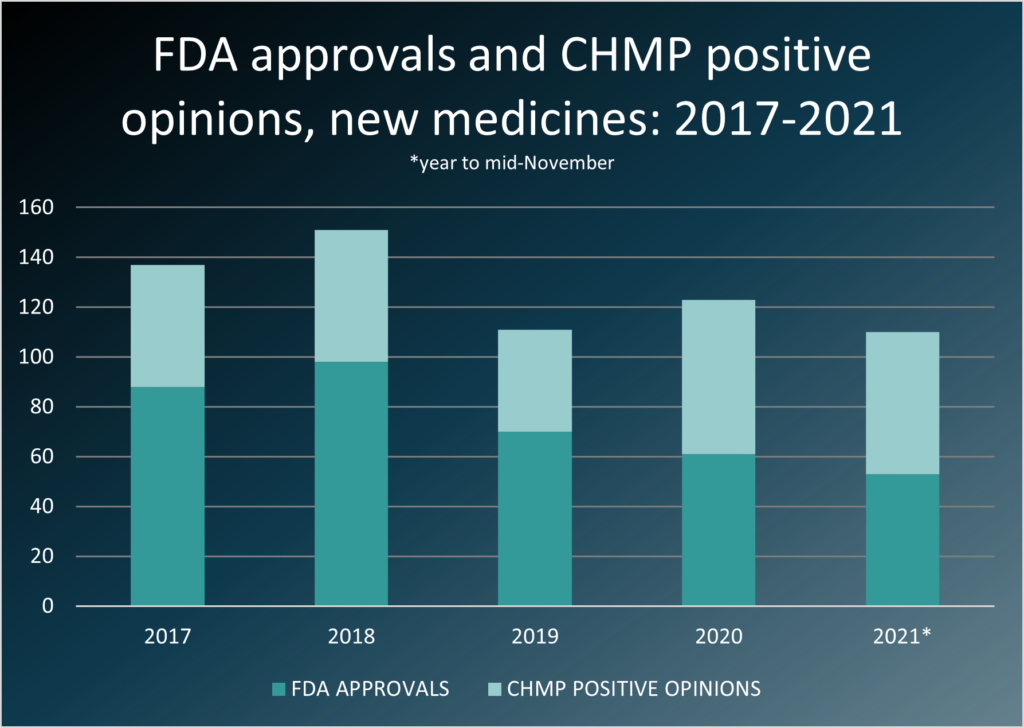 However, this record-breaking number of approvals and, of course for COVID-19, record speed of approvals, has come at a price. During lockdown many of you worked routine seven-day weeks with few taking any holiday at all during the intense first stages of the pandemic which lasted right through into the spring of this year. We know some of you have managed well-earned breaks in the summer, but the intensity has taken a toll and we hope over Christmas you may get some time to rest and rejuvenate.
In terms of FPM's own activities, our primary responsibility is to maintain standards for physicians in charge of approving and overseeing the protection of patients in research programmes and being the guardians for information provided to support prescribing. We recognise we have a further responsibility to support the bigger quality aspects of the clinical ecosystem in terms of prescribing, diagnostics and devices.
COVID-19 has brought us much closer together with our clinical and public health colleagues and has led to a growing interdisciplinary and intersectoral understanding and respect. Speaking at our recent Annual Symposium, Prof Jonathan Van-Tam advocated for cross-collaboration between pharmaceutical medicine and public health, so it is clear we have willing allies in that space. We can only hope that collaborations such as these will continue to grow and mature as we move forward, and we are passionate about building on the support we can offer in this patient driven ecosystem.
During the year the FPM office fully transferred its exams to online versions after a successful pilot in 2020, and we have some 24 new specialist trained physicians.FPM has also expanded our work into Equality, Diversity and Inclusion (EDI) and a consideration of global activities beyond the major pharma territories, with new committees overseeing these activities. Most recently we have been looking out and looking to the future. Amongst many new policy initiatives, Sheuli Porkess (Vice-President, FPM) has been leading the UK national clinical trials effort to get development programmes side-lined by COVID-19 back on track. FPM has also been considering new ways of income generation, to support further expansion of research and prescribing activities, through more collaborative work, in addition to overseeing our education, specialist training and revalidation programmes.
We know you realise how hard the office team work and I am sure you would like to add your thanks and appreciation to them – please get in touch via the usual emails and social media channels to give them a boost! In 2022 we plan to further develop our FPM strategy and objectives for 2023-25. We will be engaging with all of you in this vital activity, so please do input. Please also look out for invitations to join a number of committees and working groups in 'Get Involved January'!
Above all, please look after yourselves and your colleagues and families. Very best wishes to you all.