DPM Training Programme | Learning materials
Saturday 31 December 2022

During the DPM Training Programme the syllabus of Pharmaceutical Medicine Speciality Training is taught with a focus on the areas most relevant to the Diploma in Pharmaceutical Medicine exam.
The learning materials from this programme are available to purchase separately, for a flat fee of £225 per module.
Please note, that these materials are not designed to replace the learning and content that you get during the 2-day online training sessions, but they can be used to support your personal learning.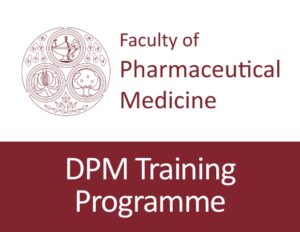 Buy now
Materials for each module are available after the module end date
A link to the online folder of materials will be sent by email the next working day after purchasing online.
About the DPM Training programme
The FPM training programme for the Diploma in Pharmaceutical Medicine (DPM) exam includes 9 modules.
You can book one, several or all modules as your educational training needs dictate. Modules run annually and attendance can be spread flexibly over multiple years as required.
Who is this course for?
Anyone who wishes to prepare for the Diploma in Pharmaceutical Medicine (DPM)
Anyone who has taken the DPM exam previously and requires refresher training
Anyone wishing to improve/update their knowledge in a specific module or modules
Anyone requiring the flexibility of a modular training programme
Anyone preferring a focussed, strategic approach to training and exam preparation
You do not need to be a Pharmaceutical Physician, have a medical degree, be enrolled in HMT/PMST or be planning to sit the Diploma in Pharmaceutical Medicine exam in order to attend.
Anyone taking the CPM
Aims
We aim to:
Further your understanding of key aspects of pharmaceutical medicine and the industry
Provide a focussed approach to learning and exam preparation
Give you greater confidence to sit the exam
Provide you with a comprehensive range of learning materials that will aid you in your professional development
Provide you with the knowledge needed to develop and maintain competence, ethics and integrity and the highest professional standards
Purchase Information
After purchasing the materials online, you will be sent the link to access the materials the following working day. Please allow up to 5pm to receive this info, and check your junk folders.
If you do not receive the link, please contact training@fpm.org.uk and we can send it to you directly.
Queries or problems: If you are unable to complete your purchase online, if you have any other problems, or if you would like to be invoiced, please email training@fpm.org.uk.
Resources included with each module
Exercises and assignments to aid & test your learning
Comprehensive presentation slides that cover the topic in depth
Example exam questions
Key readings and papers
The views, information, or opinions expressed during FPM events and training are those of the individuals involved and do not necessarily represent those of the Faculty of Pharmaceutical Medicine. We value inclusivity, equality and diversity, and work hard to promote these whenever possible in all of our activities. We welcome your comments and feedback: training@fpm.org.uk